Suspicious Activity Reports Go to Court
Jan 09, 2015
Page Media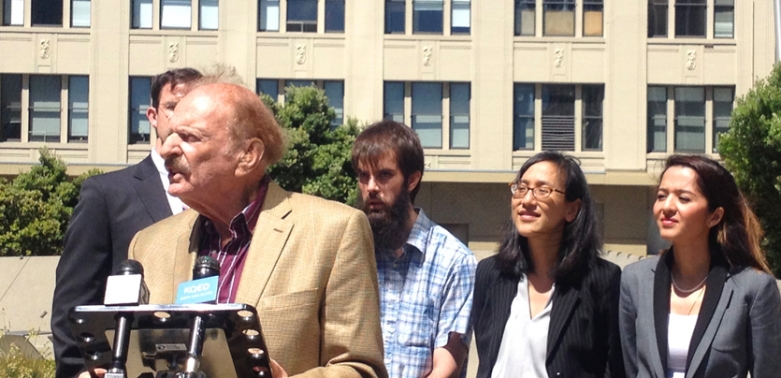 Yesterday a federal judge in the Northern District of California held a hearing to determine whether our lawsuit challenging the U.S. government's domestic surveillance program called Suspicious Activity Reporting could proceed.
The American Civil Liberties Union and Asian Law Caucus are representing five men who have each been the subject of Suspicious Activity Reports (SARs). Because they engaged in innocuous activities (Tariq was at a train station with his mother, Wiley was playing video games, Khaled was buying computers) and constitutionally protected artistic activities (James was taking pictures of public art, Aaron was taking a picture of a refinery), police and security officers reported our clients as suspicious, and the reports were uploaded to a national SAR database that branded them as potential terrorists to thousands of law enforcement agencies across the country.
What does it mean to have a SAR?
Well it means that someone has determined that your activities have a potential nexus to terrorism, a very weighty label to have in this day and age.
And our clients are not alone. While the nature of most SARs is unknown since they are hidden from the public, the ACLU obtained 1,700 SARs in response to a Public Record Act request from Central California showing broad-based documentation of innocuous and constitutionally protected activities. Unsurprisingly, when federal agencies encourage people to file SARs if they see "suspicious" behavior, many of the reports will be based on subjective biases rather than solid training or reasonable suspicion of criminal activity. Consequently, the SAR reports suggested over-reporting on communities of color, in particular Arab, Middle Eastern, Muslim and South Asian communities, who were engaged in innocent conduct.
Our clients brought this lawsuit because they have been personally harmed by a surveillance program that has branded them as potential terrorists—and because they believe the government should not be keeping dossiers on innocent Americans. Fortunately, a federal rule requires law enforcement agencies not to maintain records in criminal intelligence databases unless they have reasonable suspicion of criminal activity.
Our lawsuit argues that the government must apply that modest, but important, limitation to the SAR program in order to protect Americans' privacy. In the age of Snowden, the government disagrees. Our lawsuit also argues that, at the very least, the government should have given the public an opportunity to submit formal comments about SARs before creating the program, since it affects the rights and obligations of people. The government contests this assertion, relying, in essence, on the position that it doesn't affect your rights to be labeled as a potential terrorist in federal databases accessible by your local police and thousands of others around the country.
Yesterday the court held argument on whether Tariq, Wiley, Khaled, James and Aaron's complaint could move forward, or whether it should be dismissed at the government's request.
The outcome rests on a question of utmost importance to our society: should the government collect and maintain records linking innocent Americans to terrorism in violation of its own rules, without any accountability? Or should the government's actions be held to the yardstick of the law?
Nasrina Bargzie is a Senior Staff Attorney for National Security & Civil Rights at Asian Americans Advancing Justice-Asian Law Caucus.