TBT 1959: Black Organizer Beaten and Jailed for Sign Showing Man in Chains
Aug 17, 2016
Page Media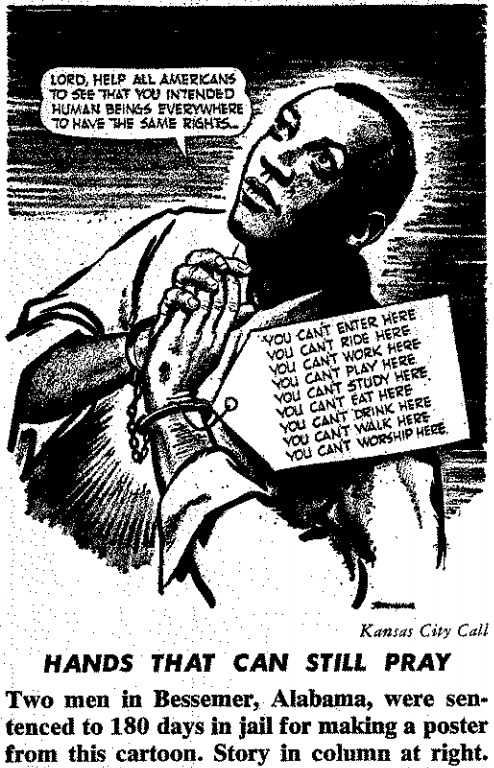 Asbury Howard, a Black leader and organizer who headed an effort to register Black voters in Alabama, was convicted in January 1959 for having a poster made from a newspaper cartoon.
Howard saw the cartoon in the Kansas City Call, a Black weekly newspaper, and decided to use it in his voter registration campaign. He took it to a sign painter who made a reproduction with the caption "Vote Today for a Better Tomorrow." Howard planned to hang it inside the headquarters of the Bessemer Voters League. The league, headed by Howard, increased the number of Black voters in Bessemer from 75 in the mid-1940s to to 2000 in 1959.
A customer saw the almost finished sign in the shop, found out who ordered it, and notified police. Bessemer Chief of Police George Baron then arrested Howard without a warrant and had the sign seized. He also had the sign painter arrested.
Howard was fined and sentenced to 180 days in jail. As he left the courtroom after filing notice of appeal and posting bond, he was beaten by a group of about 40 white men. The assault took place in front of 15 police officers who did nothing but arrest his son, Asbury Howard, Jr., for trying to defend his father.
Howard was prosecuted under an ordinance prohibiting publication of "intemperate matter tending to provoke a breach of the peace or any matter prejudicial to good morals." The prosecutor summed up the city's case against the two men, saying "It is my opinion that showing a man in chains is prejudicial to good order."
After Howard recovered from his injuries and was able to travel, the ACLU held a press conference in New York and urged an FBI investigation into this flagrant violation of the First Amendment. A number of organizations offered their support, including the Rev. Martin Luther King's Montgomery Improvement Association. In addition to organizing voters, Howard operated a gas station in Bessemer and served as Eastern vice-president of the International Union of Mine, Mill and Smelter Workers.
At an appeal hearing, a judge affirmed the conviction and refused bail. Howard, 52, was ordered to serve on a prison road gang.
Cartoon description: A handcuffed Black man looking up with his hands clasped as if praying says, "Lord, help all Americans to see that you intended human beings everywhere to have the same rights." On his left hand is a tag that says, "You can't enter here. You can't ride here. You can't work here. You can't play here. You can't study here. You can't eat here. You can't drink here. You can't walk here. You can't worship here." The caption, which Howard changed to "Vote Today for a Better Tomorrow" originally said "Hands That Can Still Pray."
Leslie Fulbright is a communications strategist with the ACLU of Northern California.