Trans Remembrance and Resistance
Nov 20, 2014
Page Media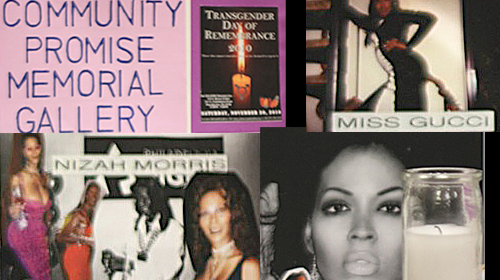 At least 10 transgender women of color have been murdered in the United States since June.
Today, on the Transgender Day of Remembrance & Resilience we honor their lives and mourn their deaths. These women - Kandy Hall, Zoraida Reyes, Yaz'min Shancez, Tiff Edwards, Mia Henderson, Alejandra Leos, Aniya Parker, Ashley Sherman, and another yet to be identified person – had their lives taken from them because they lived in this world that too often fails to value black, brown, and gender non-conforming bodies.
Started in 1999 to honor the life of Rita Hester – a black transwoman, who was murdered in Boston, Massachusetts – the Transgender Day of Remembrance (TDOR) is a time to say the names of and reflect upon the lives of our trans brothers and sisters lost to violence. It is a time to raise awareness about the epidemic of violence and systemic rejection that the trans community faces in our country and around the world.
At the same time that we mourn these losses and lament this violence, it is important that we also honor the brave resistance of so many trans people, who organize, fight, and take care of one another in the face of so much. Remembering trans people of color in death and as victims is not enough. We must stand besides and hold up trans communities, particularly communities of color, in life. We must continue to work to end mass incarceration and the criminalization of poverty, gender non-conformity, and blackness.
Last week, we joined colleagues at Columbia University Law School to celebrate the work of incarcerated trans woman, Dee Farmer, who filed a lawsuit to challenge the violent abuses she experienced in federal prison. The conference opened with Dee Farmer herself speaking from prison about the case she brought all the way to the Supreme Court in 1994. She told the audience of lawyers, prison administrators, organizers and other activists: "The transgender community in prison very much needs support of transgenders outside of prison."
From a panel on sexual assault in detention, prison survivor and Just Detention International Survival Council member, Troy Isaac, echoed Dee's sentiment: "People are being abused in detention & people don't care. As I sit here on this panel, not everyone cares."
We care. But we can and should care more. And do more.
On Monday, black trans activist Monica Jones will head back to court in Phoenix, Arizona, for the appeal of her conviction for "manifesting intent" to solicit prostitution. In Phoenix, almost anything – from waving one's hands to stopping and talking to passersby – can be used as evidence that a person is "manifesting" an intent to engage in prostitution.
Without clear standards of what conduct is made criminal, police often stop and target people based on bias. Assumed to be sex workers, transgender woman of color face widespread targeting under these vague and overbroad laws. Like so many trans women of color, Monica was assumed to be engaging in sex work because of where she lived and how she was dressed.
In August when Monica's appeal was filed, we joined her and Emmy-nominated actress Laverne Cox in Phoenix to raise awareness of the profiling of trans women of color by police. We wrote "We #StandWithMonica because transgender women of color should be able to walk down the street in their neighborhoods without being arrested, or worse, for simply being themselves." We will continue to stand with Monica on Monday and throughout her appeals, and we ask you to join us.
Follow the hashtags #translivesmatter and #standwithmonica. Watch the Deliberate Resistance: LGBT Prisoner Rights 20 Years After Farmer v. Brennan Symposium.
While we remember, we must also resist. There are so many trans people who are doing the amazing work of surviving, caretaking, organizing, and transforming.
Today is a day to support that work and those fights.
Chase Strangio is a staff attorney with the American Civil Liberties Union.
Source: ACLU Blog of Rights