Victory for Oakland Protesters, Despite Court Ruling
Dec 13, 2011
Page Media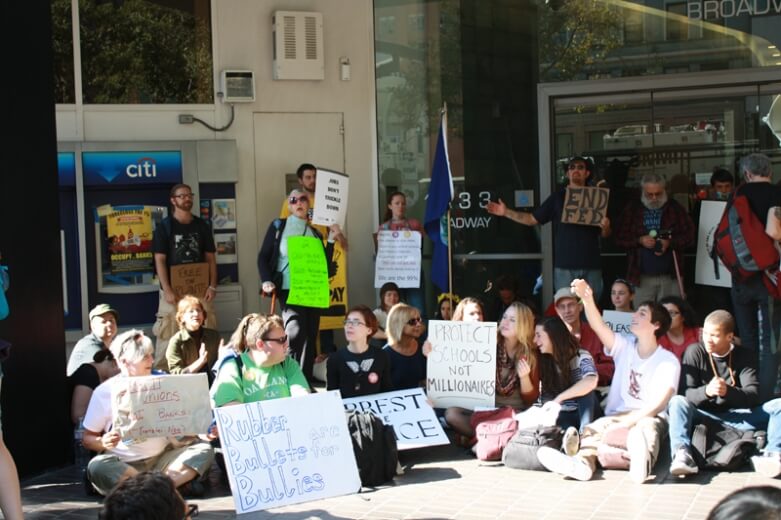 First, the good news: over the course of the day yesterday, thousands of people demonstrated in Oakland without any violent response from police. And the Oakland Police Department reportedly relied on its own officers to manage the crowd of protesters rather than bringing in other law enforcement agencies on mutual aid agreements.
We have made the point multiple times over the last few months that police violence is the wrong response to peaceful protest. OPD has made many missteps in its response to Occupy Oakland demonstrations, clashing violently with protesters on October 25 and November 2, in violation of Oakland's own Crowd Control Policy.
On the eve of a scheduled demonstration, the ACLU of Northern California and the National Lawyers Guild filed suit (November 14), seeking to compel OPD to follow the law and stop violence against protesters. The lawsuit is on behalf of Scott Campbell, a videographer who was shot with a bean bag projectile while filming police presence during Occupy Oakland on the night of November 2-3, 2011, and other demonstrators subjected to excessive force during recent demonstrations.
Now, for some bad news: Yesterday Judge Seeborg denied our request for a preliminary injunction against the Oakland Police Department. (This comes after an earlier denial of our request for an emergency temporary restraining order.) The order sides with the City of Oakland's claim that an injunction forcing OPD to follow it would be too intrusive, and that police misconduct alone does not entitle our clients to an injunction. Basically, the ruling says that there is not enough evidence that OPD will use excessive force in the future against protesters, and the City has promised to follow its own rules, and so a preliminary injunction isn't warranted. Given the numerous times OPD has used excessive force against protesters, we respectfully disagree.
But here's the thing, even without a favorable ruling at this juncture, we've reached our ultimate goal with the lawsuit: stopping further violence by OPD against protesters. Since the filing of the lawsuit, there has not been a repeat of police violence. OPD has toned down its bad behavior. Whether the timing is coincidental, it's not a far stretch to assume that being under the scrutiny of yet another court may have impacted OPD's approach to handling demonstrations.
Excessive police force is never acceptable, especially when it's in response to political protest. That's not the kind of country we live in. We hope that OPD has hit a turning point and will follow its own rules in dealing with protests, but we're watching closing and are ready to act if that changes.
Learn more:
ACLU and National Lawyers Guild File Suit Against Oakland Police Department
Police Violence on Peaceful Protesters Threatens the Health of Our Democracy
ACLU to OPD No Seriously, Hand Over the Info
Oakland Police Raid on Occupy Oakland Raises Serious Questions
When Will the Oakland Police Learn
Oakland Police Internal Investigation Isn't Good Enough
This is What the First Amendment Looks Like
Linda Lye is a staff attorney with the ACLU of Northern California