We Take Baseless Defamation Accusations Seriously. Here's Why.
May 03, 2018
Page Media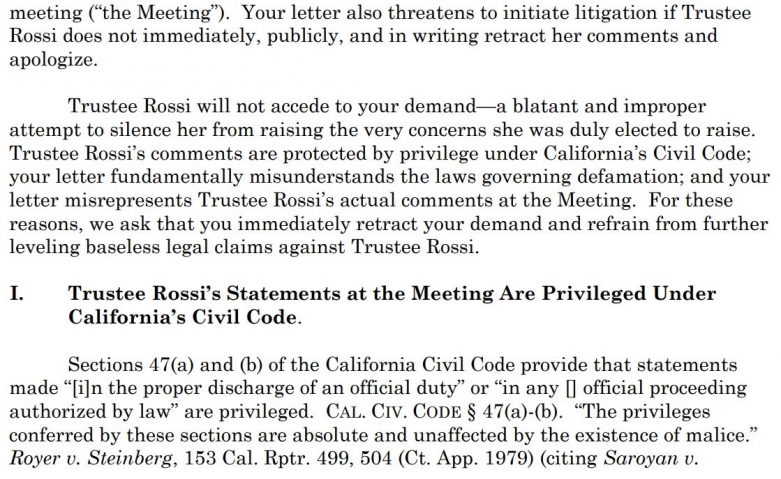 The ACLU Foundation of Northern California is committed to fighting against spurious legal claims that threaten free speech. Especially when corporations and other powerful entities attempt to strong-arm people who have less resources at their disposal.
This is exactly what happened to Claudia Rossi, a Bay Area school-board member and trustee, when she raised concerns about a private charter school at a public meeting during which board members were considering renewal of the school's charter.
Ms. Rossi's inquiries were well within the scope of her official duties as a board member and trustee representing the public interest.
Unfortunately, the charter school's CEO responded to public criticism by threatening her with a lawsuit. In a threatening letter sent to Ms. Rossi, the CEO claimed her statements were defamatory and demanded she retract them and apologize publicly and in writing.
This tactic—alleging defamation because one does not appreciate a comment, opinion, or line of questioning—is as prevalent as it is problematic. And it threatens our country's commitment to open discourse.
A few months ago, we sent a letter to Taylor Swift and her attorney refuting their meritless legal defamation threats against a blogger who critically interpreted some of Ms. Swift's music, lyrics, and videos as supporting white supremacy. And, in February, a judge in West Virginia tossed out a coal-mining executive's defamation lawsuit against TV personality John Oliver, who used his platform to comedically skewer the executive's approach to worker safety. The ACLU of West Virginia Foundation filed an amicus brief with section titles like "All of John Oliver's Speech Was Protected by the First Amendment. You Can't Sue People for Being Mean to You, Bob." But, while the amicus brief "poke[d] fun at the absurdity of th[e] case, the legal issues raised by it [we]re anything but comical. Th[e] lawsuit . . . threaten[ed] the fundamental right . . . [to] speak candidly on matters of public concern."
For Ms. Rossi, who works full time as a registered nurse and has a family, the threat of personal liability for damages is similarly no laughing matter. The demand letter made her question her obligations as a public official—should she refrain from asking tough questions on behalf of the public because doing so might expose her to litigation? No one should have to ask themselves that question. It's an affront to the democratic principles that underpin our system of governance. Open and robust debate and discussion is a prerequisite for public trust in government.
This is why we responded to the threatening letter on Ms. Rossi's behalf. Public officials should not worry that being critical of corporations who want to do business with the government will expose them to legal liability. In fact, as our letter points out, the statements public officials make in the discharge of their official duties are absolutely privileged under California law.
And while the letter Ms. Rossi received does huff and puff about various allegedly defamatory statements, we called out each of those claims for what they truly are—bluffs.
According to the California Legislature, "there has been a disturbing increase in lawsuits brought primarily to chill the valid exercise of the constitutional rights of freedom of speech. . . . [P]articipation in matters of public significance . . . should not be chilled through abuse of the judicial process."
Undoubtedly, criticism and critical questioning can be difficult to deal with. But that difficulty does not mean a person or entity has been defamed, and it certainly does not justify leveling baseless legal claims.
Bilal Malik is a legal fellow with the ACLU Foundation of Northern California.