This is What Censorship Looks Like
Jul 15, 2014
Page Media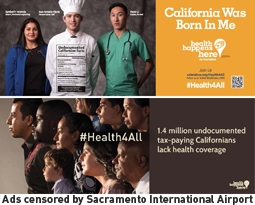 A black canvas near Gate 18 in the Sacramento airport's Terminal B sits in place of a billboards intended to promote healthcare access for immigrants in California. Why? The airport has refused to use the original ads, claiming that they are too political in nature.
That, my friends, is exactly what censorship looks like.
We all know immigration is a hot topic and that both sides of the debate have strong opinions on the issue (including the ACLU). Just a few weeks ago scores of protesters blocked buses transporting women and children in Murrieta, California. The protesters blocked the road for hours, pounding on the buses, shouting obscenities and waving signs. The week before that, hundreds of residents spoke against a proposed shelter for unaccompanied immigrant children in Escondido, California.
But evoking strong opinions doesn't in and of itself make something political and these ads are no exception – they did not mention any political candidate, bill, or initiative.
We firmly believe that the remedy for anti-immigrant speech is more speech, not less.
But the California Endowment, a non-profit foundation, is now being censored, based on airport ad regulations. The first ad they submitted included three undocumented community members, facts about undocumented Californians, and the hashtag "#Health4All." Now the only content remaining of the rejected ad is "#Health4All."
When you get down to it, allowing commercial advertising but banning non-commercial advertising at airports raises serious free speech concerns. It is truly hard to see why the airport rejected the California Endowment's ads in the first place.
And even if the ads were political in nature, there is no more risk of having people think the Endowment's advertisements represent the views of the airport or the County, than there is that they would think the County is endorsing the products and services featured in other ads found throughout the airport.
The ACLU of Northern California asked the Airport Authority to allow the California Endowment to display its proposed ads. We're also asking the airport to revise its rules to ensure that this problem doesn't come up again. This type of censorship can lead us down a slippery slope.
After all, when anyone's rights are violated, all of our rights are put at risk.
More information about Sacramento airport's censorship of the California Endowment ads can be found here.
Abdi Soltani is Executive Director at the ACLU of Northern California. The ACLU of Northern California is a California Endowment grant recipient.