Ending Immigration Detention in California
Page Media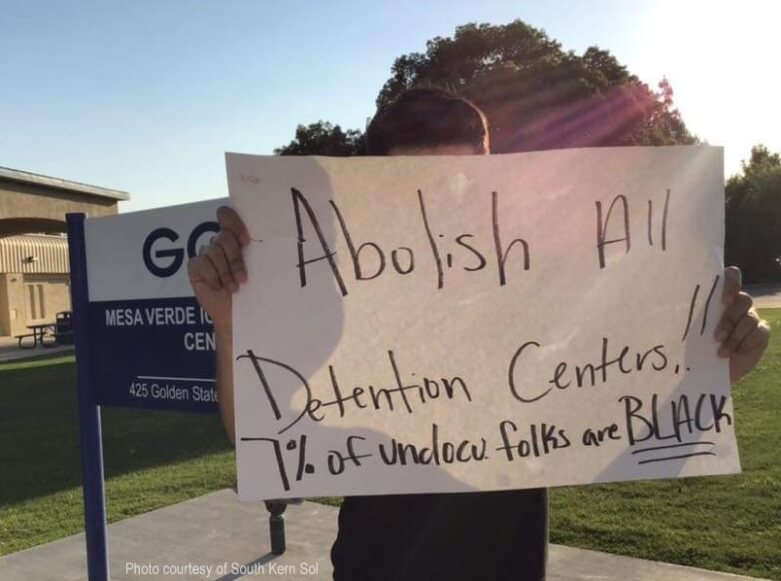 Since 2021, the ACLU of Northern California has filed several complaints with the U.S. Department of Homeland Security's Office for Civil Rights and Civil Liberties documenting mistreatment of people detained at the Mesa Verde Detention Facility and Golden State Annex in Kern County.
The GEO Group, a private prison corporation that holds lucrative contracts with U.S. Immigration and Customs Enforcement (ICE), manages both federal detention centers.
Individuals at Mesa Verde and Golden State Annex have engaged in peaceful hunger and labor strikes to protest the abuse, poor living conditions, and unfair labor practices they have experienced in detention. Instead of addressing protesters' concerns, GEO staff have retaliated by placing detained individuals in solitary confinement, isolating them in a single dorm, attempting to transfer them to out-of-state facilities, and writing them up for actions that had not been punished before they exercised their right to file grievances. Administrators also routinely dismiss complaints about staff misconduct.
The ACLU of Northern California and our partners—California Collaborative for Immigrant Justice, Centro Legal de la Raza, Pangea Legal Services, Innovation Law Lab, Freedom for Immigrants, and ACLU of Southern California—urge the Office for Civil Rights and Civil Liberties to investigate the ongoing mistreatment of individuals detained at the two facilities and to recommend that ICE release any individuals who faced retaliation because they joined the protests.
Sen. Alex Padilla, Rep. Zoe Lofgren and 14 other members of the California Democratic congressional delegation joined our call for an investigation into the allegations of disturbing conditions and retaliation in a September 2022 letter to DHS Secretary Alejandro Mayorkas and the acting ICE director. The lawmakers called on DHS to shut down the facilities if the allegations prove to be true. 
Immigration detention is inhumane and unnecessary. It tears families apart, disrupts lives, and increases the mass incarceration of Black and Brown people in the U.S. ICE must shut down the detention centers and terminate its contracts with GEO and other for-profit prison companies.