Article Media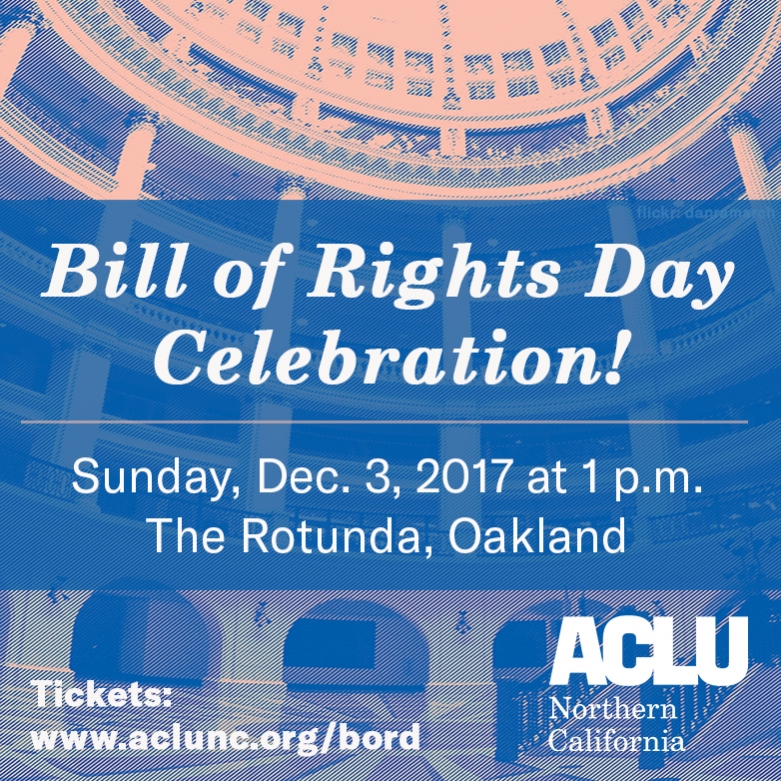 Come celebrate with us at our annual Bill of Rights Day in Oakland!
Location:
The Rotunda - Beauty in the Heart of Oakland
300 Frank H. Ogawa Plaza
Oakland, CA
Registration is now closed.
President Trump has recklessly been using his power to undermine basic civil liberties in an all-out assault on the U.S. Constitution. And the ACLU is fighting back — through the courts, through the legislature, and through grassroots organizing — against the government's attempts to strip people of their rights.
We've already had some big victories, like the passage of a 'Sanctuary State' law, the California Values Act, which untangles state and local police involvement with immigration enforcement.
The Bill of Rights has never been more important, or more worth celebrating. Help us recognize bold leaders in our movement and celebrate a year of civil liberties successes! This year's honorees include:
Karen Korematsu for educating Americans about the legacy of her father's case Korematsu vs. U.S. challenging Japanese American internment, and for speaking up with her powerful voice against the current manifestations of discrimination, including the Muslim Ban.
Jim McQuillen for his unwavering commitment and contributions to advancing equal access and educational opportunity for Native students throughout California — especially along the North Coast.
Natalie Hewitt Wormeli for her leadership within and outside the ACLU, and decades of service advancing state and local civil liberties initiatives and mentoring the next generation of fierce women advocates.
Master of Ceremonies: Aundré "The Wonderwoman" Herron
After the program, join us for a reception and enjoy appetizers and an open bar.
Doors open at 12:30 p.m. Program begins at 1 p.m.
Tickets
Cost: $10 low-income/student or $25 general admission.
Tickets are not tax-deductible.
Getting to Bill of Rights Day
Taking BART to the event? Get off at 12th Street BART.
The Rotunda is just steps away from 12th Street BART Station in Oakland
Driving Directions
The Rotunda is located in downtown Oakland, accessible by the 980, 880, or 580 freeways
Parking
There are several parking options, which include street parking and a parking structure, commonly known as the Rotunda Garage, located at 529 17th St, Oakland, 94612 — one block away. Parking is $5 per vehicle.
For more information, contact Steven Medeiros at smedeiros@aclunc.org or (415) 621-2493 x386