Article Media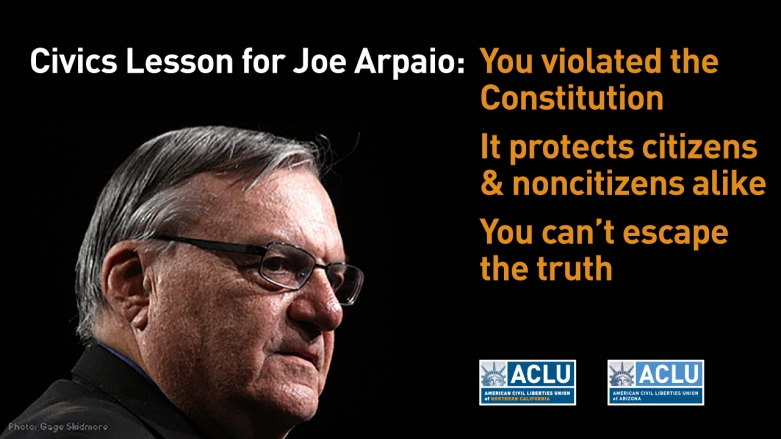 Fresno - Joe Arpaio, former sheriff of Maricopa County, Arizona, is scheduled to appear at The Fresno Republican Party's annual fundraising dinner in Fresno, CA on Friday, September 29 at 5:30 pm. In response to his visit, the ACLU of Northern CA and the ACLU of Arizona have commissioned a mobile billboard to greet him with the following message:
"Civics Lesson for Joe Arpaio:
You violated the Constitution
It protects citizens & noncitizens alike
You can't escape the truth"
Arpaio was found guilty of criminal contempt in 2017 for willfully violating a federal court order that required his agency to stop illegally detaining people based solely on suspected immigration violations. His conviction came after Latino residents of Maricopa County, working in partnership with the ACLU of Arizona, successfully challenged Arpaio's unconstitutional and cruel policies of racial profiling and illegal detentions. President Trump pardoned him before sentencing, despite objections by the Justice Department.
"No matter what the president does, the truth still holds," said ACLU of Arizona Executive Director Alessandra Soler. "Joe Arpaio disgracefully abused the community he was sworn to protect, and Maricopa County voters kicked him out of office, teaching him that no one is above the law."
"In Fresno County, communities are also holding current Sheriff Margret Mims accountable," said ACLU of Northern California Executive Director Abdi Soltani. "Residents are making it clear that when law enforcement officers get involved in immigration enforcement beyond their scope of authority, they run afoul of the Constitution, tear apart communities, and threaten public safety."
###
ACLU Staff Attorney Maria Romani will be available for press interviews and photo opportunities of the billboard on Friday, September 29 between 4:30-5:30 pm.
Today, the mobile billboard will be driving along Shaw Avenue, Blackstone Avenue, and Fresno State from 12:00-5:00 pm, and the Tower District from 5:00-8:00 pm.
On Friday, the billboard will be will be driving along Shaw Avenue and Blackstone Avenue from 12-3pm, and at the intersection of King's Canyon Road and Clovis Avenue from 3:30-8:00pm.
These times are approximate.