Article Media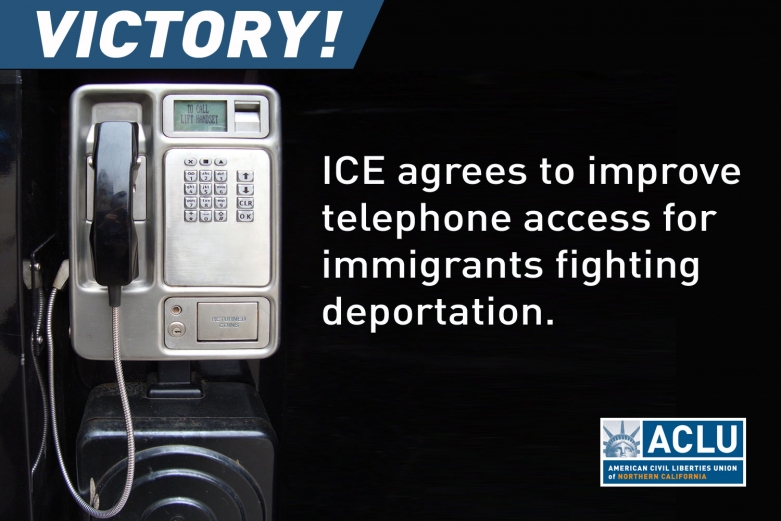 San Francisco - In a first of its kind class action settlement, the U.S. Immigration and Customs Enforcement agency (ICE) has agreed to change its policies in four Northern California detention centers, ending severe restrictions on telephone use that make placing outgoing calls nearly impossible and prevent many immigrants from obtaining legal representation and gathering documents to fight deportation. The settlement with plaintiffs represented by the American Civil Liberties Union of Northern California, the ACLU's National Prison Project, Orrick Herrington & Sutcliffe, and Van Der Hout, Brigagliano & Nightingale will give immigrant detainees direct calling options that are free of charge on private telephones.
"When people are locked up on immigration charges, they deserve access to a working telephone. The Constitution and basic fairness demand it," said Julia Harumi Mass, a senior staff attorney at the ACLU of Northern California. "That phone is their lifeline, their hope for defeating the charges against them and establishing their legal rights to continue their lives in the United States."
In 2013, the ACLU and co-counsel filed a lawsuit against ICE charging that inadequate telephone access violates the rights of ICE detainees to a full and fair hearing under federal law and the U.S. Constitution.
Every day, ICE holds an estimated 34,000 immigrants in the nearly 250 ICE facilities around the country, with nearly one thousand in the four California facilities covered by the settlement. These detainees face civil charges as they try to obtain legal counsel or represent themselves, fighting to stay in their adopted country.
I.P., a 49-year-old man who came to the U.S. from Mexico at the age of 5, was detained after being pulled over for a traffic violation. He spent months locked up because he couldn't access legal help, largely due to the inadequate phones. The phone system had a series of complex instructions and codes for dialing that rarely worked. It also disconnected when a caller reached any kind of automated message or prompt. I.P. wrote letters to 15 attorneys and attempted to make dozens of calls before he was finally able to find a lawyer.
"Making phone calls was expensive, difficult and frustrating. Each week, I'd see people give up and sign their deportation papers because they couldn't reach anyone," said I.P., who asked to remain anonymous because of the sensitivity of his ongoing case. "Many of the men in detention had families and couldn't afford to wait the weeks it took to make phone calls, so they just surrendered."
ICE has one year to make the changes in the settlement and has agreed to modify its inspection forms used nationwide so that phone access will have greater oversight in all of its facilities.
ICE will:
Provide speed dials to make free, direct, unmonitored calls to government offices and immigration attorneys who provide pro bono services;
Install forty phone booths, distributed among the four facilities, for private calls during waking hours, as well as private phone rooms for legal calls;
Allow legal calls to family, friends, and other people to obtain testimony, documents, and other support for immigration cases;
Extend the time permitted for a call before a phone automatically cuts off, from 20 minutes to 40 minutes and from 15 minutes to 60 minutes for existing ICE speed-dials to certain nonprofit organizations, consulates, and federal offices;
Provide facilitators who will process phone requests and ensure timely access to phone rooms;
Offer phone credit or other accommodations for those who can't afford to pay for calls; and
Revise inspection forms used nationwide to inspect for violations of telephone access standards.
"Because of this settlement, thousands of immigrants in detention will be able to use the phone to regain their freedom and go home to their families," said Carl Takei, a staff attorney at the ACLU's National Prison Project. "But far too many of them should never have been locked up in the first place. ICE sends massive numbers of immigrants into detention and exposes them to brutal confinement at a cost of $2 billion per year to American taxpayers."
The settlement applies to county jails with ICE contracts in Contra Costa, Sacramento and Yuba counties and to the privately-run Mesa Verde Detention Facility in Bakersfield.
"This case was about fundamental fairness in the system," said Charles J. Ha of Orrick Herrington & Sutcliffe LLP. "Orrick is committed to providing legal assistance to the underserved in our community to secure their basic due process rights. This settlement agreement serves that goal by affording detainees increased access to counsel, and to the witnesses, evidence and information they need to vindicate their rights under our immigration laws."
Acuerdo entre la ACLU e ICE permitirá que los inmigrantes detenidos usen teléfonos que funcionan para comunicarse con abogados, familiares y agencias del gobierno
Autoridades de inmigración aceptan facilitar acceso confiable a teléfonos a los inmigrantes detenidos que luchan contra la deportación
San Francisco - En el primer acuerdo de este tipo obtenido en una demanda colectiva, la Agencia de Inmigración y Control de Aduanas de EE.UU. (ICE) aceptó cambiar sus políticas en cuatro centros de detención del Norte de California, poniendo fin a rigurosas restricciones en el uso del teléfono que hacen que realizar llamadas salientes sea casi imposible y evitan que muchos inmigrantes obtengan representación legal y reúnan los documentos que necesitan para luchar contra la deportación. El acuerdo con los demandantes representados por la Unión Americana de las Libertadas Civiles del Norte de California, el Proyecto Nacional de Prisiones de la ACLU, Orrick Herrington & Sutcliffe y Van Der Hout, Brigagliano & Nightingale les dará a los inmigrantes detenidos opciones para realizar llamadas directas gratuitas a través de teléfonos privados.
"Cuando las personas están encerradas debido a cargos de inmigración, merecen tener acceso a un teléfono que funcione. La Constitución y la justicia básica lo exigen", dijo Julia Harumi Mass, una de las abogadas principales de la ACLU del Norte de California. "Ese teléfono es su salvavidas, su esperanza para derrotar los cargos en su contra y establecer sus derechos legales para poder continuar con sus vidas en Estados Unidos."
En el 2013, la ACLU y abogados adjuntos interpusieron una demanda contra ICE argumentando que el acceso inadecuado al teléfono viola el derecho de los detenidos de ICE de tener total acceso a una audiencia justa bajo la ley federal y la Constitución de EE.UU.
Cada día, se calcula que ICE mantiene detenidos a unos 34,000 inmigrantes en casi 250 instalaciones de ICE en todo el país, con casi mil en las cuatro instalaciones de California cubiertas bajo este acuerdo. Estos detenidos enfrentan a cargos civiles mientras tratan de encontrar representación legal o tratan de representarse a sí mismos, luchando para permanecer en su país adoptivo.
I.P., hombre de 49 años que llegó a EE.UU. proveniente de México a los 5 años, fue detenido tras cometer una infracción de tránsito. Pasó meses encerrado porque no podía conseguir ayuda legal, debido en gran parte a que los teléfonos eran inadecuados. El sistema telefónico tenía una serie de instrucciones y códigos complejos para marcar que funcionaban en rara ocasión. También se desconectaba cuando contestaba cualquier tipo de mensaje automático. I.P. escribió a 15 abogados y trató de hacer docenas de llamadas antes de encontrar finalmente a un abogado.
"Hacer llamadas era costoso, difícil y frustrante. Cada semana, vi a personas rendirse y firmar sus papeles de deportación porque no podían contactar a nadie", dijo I.P., quien solicitó permanecer anónimo debido a lo delicado de su caso. "Muchos de los hombres detenidos tenían familia y no podían esperar las semanas que tomaba hacer las llamadas, por lo al final simplemente se rendían."
ICE tiene un año para implementar los cambios establecidos en el acuerdo y ha accedido modificar los formularios de inspección que usa en todo el país para poder verificar el acceso telefónico en todas sus instalaciones.
ICE:
Contará con marcación rápida para hacer llamadas gratuitas, directas y no monitoreadas a las oficinas del gobierno y a abogados de inmigración que ofrecen servicios pro bono;
Instalará cuarenta cabinas telefónicas distribuidas en las cuatro instalaciones para realizar llamadas privadas durante el día, así como cuartos privados con teléfono para llamadas legales;
Permitirá llamadas legales a familiares, amigos y demás personas para obtener testimonios, documentos y otros tipos de apoyo para los casos de inmigración;
Aumentará el tiempo permitido de las llamadas antes de que el teléfono automáticamente se corte de 20 minutos a 40 minutos y de 15 minutos a 60 minutos para los números de marcación directa que ICE mantiene con algunas organizaciones sin fines de lucro, consulados y oficinas federales;
Contará con facilitadores que procesarán solicitudes telefónicas y garantizarán acceso oportuno a cuartos con teléfono;
Ofrecerá créditos para usar el teléfono y otras facilidades a quienes no pueden pagar las llamadas; y
Modificará los formularios de inspección que usa en toda la nación para poder identificar violaciones a las normas para el uso del teléfono.
"Gracias a este acuerdo, miles de inmigrantes detenidos podrán usar el teléfono para recuperar su libertad y regresar a su hogar con sus familias", dijo Carl Takei, abogado del Proyecto Nacional de Prisiones de la ACLU. "Demasiados de ellos nunca debieron estar encerrados en primer lugar. ICE detiene a una cantidad masiva de inmigrantes y los expone a un cruel aislamiento que les cuesta a los contribuyentes estadounidenses dos mil millones de dólares al año."
Este acuerdo aplica a todas las cárceles del condado que tienen contratos con ICE en los Condados de Contra Costa, Sacramento y Yuba y a la Instalación de Detención Mesa Verde en Bakersfield, la cual es privada.
"El acceso al teléfono permite que quienes están detenidos tengan la oportunidad de vindicarse bajo nuestras leyes de inmigración", dijo Robert P. Varian de Orrick Herrington & Sutcliffe, abogado pro bono del caso. "Negar el acceso al teléfono es una extraordinaria violación de los derechos del debido proceso de los inmigrantes que se encuentran en proceso de remoción."