Article Media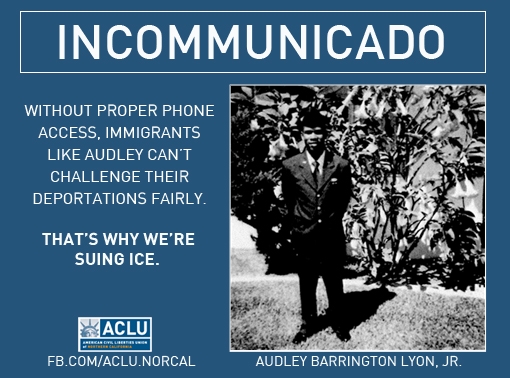 San Francisco – The American Civil Liberties Union of Northern California (ACLU-NC), along with pro bono co-counsel Orrick, Herrington & Sutcliffe LLP filed a class action lawsuit Thursday, charging that inadequate telephone access afforded individuals in immigration detention violates their right to a full and fair hearing under federal law and the U.S. Constitution.
"Most immigrants who are detained during their deportation proceedings simply don't stand a fighting chance,"said Julia Harumi Mass, Staff Attorney at the ACLU-NC. "Under the current telephone system, it is nearly impossible for a person to consult with or hire a lawyer, contact crucial character witnesses, or gather evidence to support their cases, including asylum claims. These are essential activities for anyone in a legal proceeding and they must be made possible for immigration detainees to realize the promise of due process under the Constitution."
Telephone access in the immigration detention facilities of northern California ranges from severely limited to practically non-existent. Immigration detainees cannot leave voicemail messages, complete calls to offices with recorded greetings, or receive incoming calls. For some detainees, calls are permitted only during "free time" hours, which can be as short as one hour a day at any time of day or night. Calls from northern California immigration detention facilities are also prohibitively expensive—anywhere from $3.75 to $9.50 for a ten-minute long-distance call within California. Even those who are able to overcome these barriers and complete a telephone call must discuss privileged and sensitive information in a crowded, public, and noisy setting.
"This case is about fundamental fairness in the American legal system," said Robert P. Varian of Orrick. "Immigrants held in ICE custody pending deportation proceedings are systematically denied the most basic due process rights as they fight for the opportunity to live and work in the United States. The result is that many class members who may be legally entitled to remain here are deported, and many others remain in jail while they are forced to seek continuances because they cannot communicate with the outside world."
Named Plaintiffs in the suit illustrate how deficient telephone access undermines their legal rights:
Audley Barrington Lyon, Jr. needs to speak to the East Palo Alto Police Department to obtain a U visa certification. The police department does not accept collect calls and Mr. Lyon's immigration detention facility does not allow detainees to purchase calling cards. The police department will not release information to Mr. Lyon's wife due to its privacy policies.
Edgar Cornelio fears return to his home country because of threats and injuries his family has received at the hands of local gang members. To support his asylum petition, he needs to contact his family in Guatemala, including his father who was recently shot, to obtain evidence of the ongoing threats and violence. Regardless of his financial ability, he cannot possibly gather this evidence because the telephone system in the facility where he is detained simply does not allow international calls.
José Elizandro Astorga-Cervantes is requesting that an immigration judge or ICE release him from custody and needs to provide character witnesses—either letters or live testimony from people in the community that can attest to his character and community ties. This requires calls to employers, family members, friends, etc. Mr. Astorga-Cervantes cannot afford to pay for these telephone conversations and would be unable to leave voicemail messages even if he could pay for the calls.
"The current system violates our basic sense of fairness. Immigrants in detention are essentially held incommunicado. They should get a reasonable chance to challenge their deportation," said Jenny Zhao, another ACLU attorney working on the case.
Immigrants detained in northern California are geographically isolated from the San Francisco Immigration Court and from the majority of immigration attorneys who practice deportation defense. They are held in three county jails: the Yuba County Jail in Marysville, the Rio Cosumnes Correctional Center in Elk Grove located in Sacramento County, and the West County Detention Facility in Richmond located in Contra Costa County.
Roughly 34,000 immigrants are held in the U.S. Immigration and Customs Enforcement agency's (ICE) facilities on a daily basis, with roughly 500 to 600 of these immigrants held in northern California. A person in immigration custody has the right to be represented by counsel at no expense to the government, but is not guaranteed legal representation. A recent report found that of all removal proceedings completed in San Francisco in fiscal year 2011, only 34% of detained respondents had lawyers.
The suit was filed in the Northern District of California and seeks sufficient time during business hours for detainees to make legal calls, a process by which attorneys can schedule calls with detainees, accommodations for those who cannot afford to make legal calls, the ability to make unrecorded and unmonitored legal calls from a private setting, and the ability to leave voicemail messages when making legal calls.
Learn more:
Complaint (Dec. 19, 2013)