Article Media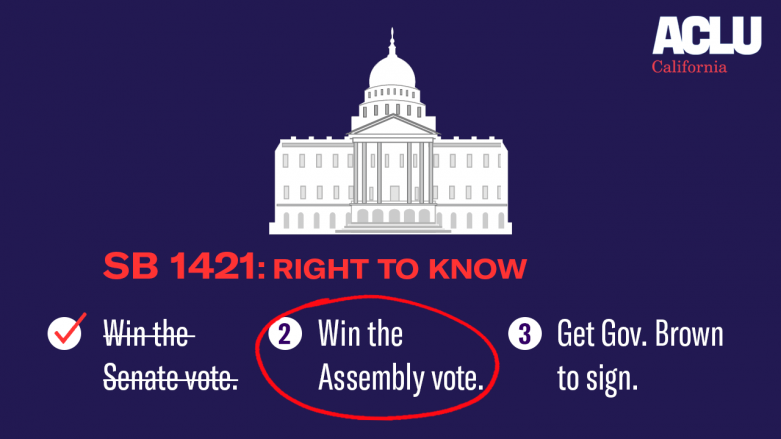 Media Contact: Daisy Vieyra, (916) 442-1036 x613
Sacramento – Today, the California Senate voted 25 to 11 to approve legislation that will restore the public's right to know about law enforcement officers who shoot, kill, or engage in serious misconduct like falsifying evidence or committing sexual assault. SB 1421 was introduced earlier this year by Senator Nancy Skinner (D-Berkeley) to bring California's outdated police transparency laws in line with 27 other states that already make peace officer disciplinary records available to the public in some form.
"For years, California law has shrouded police misconduct and use of force in unnecessary secrecy, leaving communities desperate for answers about what really happened in police shootings and completely in the dark about cases of serious police misconduct," said Peter Bibring, police practices director for the ACLU of California. "SB 1421 is a long-overdue step toward making police more transparent and accountable to the people of California."
California law currently denies the public access to critical information about how departments investigate officers who violate the law or department rules. California police departments are expressly forbidden from sharing with the public whether an officer is guilty of misconduct, if they have been disciplined, or what the discipline is. Departments are also forbidden from sharing the factual findings in investigations into police shootings.
"We have seen and heard far too many stories of people being killed and mistreated by police to allow departments to keep judging these abuses in secret," said Rosa Cabrera, PolicyLink's associate director. "This secrecy only increases distrust in law enforcement, particularly among people of color, who have borne the brunt of police violence and brutality over the years."
A 2017 investigation by The Los Angeles Times, for example, uncovered that the Los Angeles Sheriff's Department kept a secret 2014 list of hundreds of deputies with histories of misconduct, including deputies who lied in police reports and falsified evidence. As with other cases of police misconduct, state law barred public access that list – even access by the District Attorney and other law enforcement officials. The list was ultimately made public when it was leaked to the Times.
"The public gives police the authority to detain, arrest, and use force," said Cat Brooks, co-founder of the Anti Police-Terror Project. "We have a right to know how police use and abuse those powers – and whether departments are holding those officers accountable or simply sweeping abuse under the rug."
SB 1421 now heads to the Assembly. If approved by the Assembly and signed by Governor Brown, the bill will give the public access to law enforcement records related to:
Serious use-of-force investigations, including investigations into police shootings.

Sustained complaints against officers for sexual assault or other serious job-related dishonesty, such as perjury, falsifying police reports, and planting or destroying evidence.
SB 1421 is sponsored by the Alliance for Boys and Men of Color, ACLU of California, Anti Police-Terror Project, Black Lives Matter California, California Faculty Association, California News Publishers Association, Communities United for Restorative Youth Justice, PICO California, Policy Link, and Youth Justice Coalition LA.