Article Media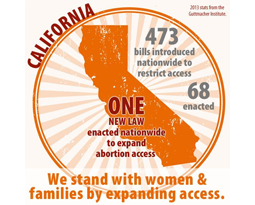 Sacramento – Gov. Jerry Brown signed legislation today that would increase access to safe, early abortion for California women. The bill, AB 154 was authored by Assembly member Toni Atkins (D-San Diego).
"With his signature, Governor Brown is making a commitment to Californians to continue working to make abortion services a human right and not a privilege in our state and is also sending a strong message to the rest of the country that attacks on women's health and rights stop in California," said Laura Jimenez, Executive Director of California Latinas for Reproductive Justice. "We are proud that California is the only state in the nation right now that is passing proactive legislation to improve access to abortion and we hope that this law can further efforts to expand access to women throughout the country."
"With the Governor's signature on AB 154, a significant barrier to reproductive healthcare for California women has been reduced. Increasing the number of trained healthcare providers who can perform abortions on a timely basis without requiring significant travel will improve the lives of women and their families in many ways. I appreciate the Governor's support," said Assembly Member Atkins.
AB 154 improves access by authorizing trained and qualified nurse practitioners, certified nurse midwives and physicians assistants to perform early abortions. The bill is based on a five-year study conducted by the University of California San Francisco which showed that specially trained health professionals can provide high quality early abortion care.
"The ACLU is committed to ensuring that all people have access to comprehensive reproductive health care. This law will ensure that people can access providers in their own communities who they know and trust," said Phyllida Burlingame, Reproductive Justice Policy Director for the ACLU of California.
AB 154 was sponsored by ACCESS Women's Health Justice, ACLU of California, Black Women for Wellness, California Latinas for Reproductive Justice, NARAL Pro-Choice California, and Planned Parenthood Affiliates of California. The bill had the support of the California Women's Health Alliance, which comprises more than 30 women's health and rights groups that support improving access to women's reproductive health care.
The California Women's Health Alliance comprises more than 30 organizations that are dedicated to protecting and improving women's reproductive health in the state.
California Women's Health Alliance members:
ACCESS Women's Health Justice, ACLU of California, ACT for Women and Girls, American Nurses Association/California, Bay Area Communities for Health Education, Black Women for Wellness, Business & Professional Women of Nevada County, California Church IMPACT, California Family Health Council, California Latinas for Reproductive Justice, California Nurse-Midwives Association, California Women's Law Center, Cardea Institute, Center on Reproductive Rights and Justice, Choice USA, Forward Together, Fresno Barrios Unidos, Khmer Girls in Action, League of Women Voters of California, NARAL Pro-Choice California, National Abortion Federation, National Asian Pacific American Women's Forum, National Center for Lesbian Rights, National Council of Jewish Women - California, National Health Law Program, National Latina Institute for Reproductive Health, National Network of Abortion Funds, Nevada County Citizens for Choice, Nursing Students for Choice, Physicians for Reproductive Health, Planned Parenthood Affiliates of California, Reproductive Justice Coalition of Los Angeles, Women's Community Clinic, Women's Health Specialists of California