Article Media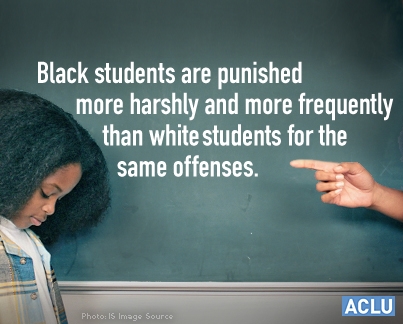 San Francisco – The Department of Education and Department of Justice today released federal guidance to assist schools in administering discipline in a nondiscriminatory way and to provide alternatives to overly punitive school discipline practices.
In the guidance, the agencies have stated what we have known to be true for a long time: race discrimination in school discipline is a real problem. Students of color are punished more frequently and more harshly than other students for the same infractions. Data from the 2011-2012 Civil Rights Data Collection provide a national snapshot of the reach of punitive school discipline policies. For example, Black students make up 44 percent of students suspended more than once and 36 percent of students expelled, though they represent only 15 percent of students.
A recent analysis by EdSource of suspensions for "willful defiance" in 30 of the largest school districts in California revealed similar racial disparities in suspension rates.
"With the rise of law enforcement in our schools, the proliferation of zero-tolerance policies and misuse of suspensions and expulsions, our nation's school discipline policies are pushing children, most of whom are students of color and students with disabilities, out of school," said Jory Steele, an attorney with the ACLU of California. "Today, the federal government has issued groundbreaking guidance that will help all school districts end misguided, discriminatory school discipline policies. These guidelines are especially pertinent in California, where there are gross racial disparities in school discipline and where nearly half of all suspensions are handed down for the vague category of wilful defiance. Today's guidelines underscore the urgent need to enact AB 420, which would limit the ambiguity of willful defiance, reduce school push out and protect the rights of all students, particularly those disproportionately affected like students of color, students with disabilities and LGBTQ students."
AB 420, which has been approved by the state Assembly and is currently in front of the full Senate, is authored by Assemblyman Roger Dickinson (D-Sacramento).