Article Media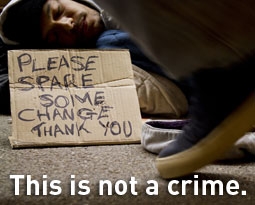 SACRAMENTO – The ACLU of Northern California and the Law Office of Mark E. Merin today charged that an ordinance adopted in May by the Sacramento County Board of Supervisors banning panhandling is unconstitutional.
A lawsuit filed today in U.S District Court for the Eastern District of California in Sacramento on behalf of the Sacramento Homeless Organizing Committee and two individuals alleges the ordinance violates the First Amendment rights of anyone seeking to panhandle or solicit for donations and to distribute literature within the unincorporated areas of Sacramento County.
The lawsuit charges that, by exempting solicitations for charitable causes, the ordinance singles out for restriction one type of request, such as the donation of money, but not other types of requests.
"The ordinance is a mean-spirited and unconstitutional attempt to restrict the free speech rights of some of the county's most vulnerable people," said Alan Schlosser, legal director for the ACLU of Northern California. "People panhandle to support themselves. Criminalizing that is the wrong way to address homelessness."
The ordinance, which officially went into effect last month, prohibits solicitation within 35 feet of any financial institution or automated teller machine, any driveway providing vehicular access to any shopping center, retail or business establishment, within 200 feet of any traffic intersection, on any median strip, on or within 50 feet of any public transportation vehicle stop and at any motor vehicle stopped at a gasoline station or pump.
According to the lawsuit, the ordinance undercuts the ability of members of the Sacramento Homeless Organizing Committee to carry out one of their main functions: to solicit for donations in exchange for copies of a street newspaper published by the committee.
Under a program that began in 2002, vendors receive up to 60 copies per week of the newspaper, entitled the Homeward Street Journal, for free, which they then exchange for solicited donations. The program not only helps vendors earn money but also helps spread awareness about important social issues, including homelessness and poverty. Under the ordinance, the ability of committee members to solicit for donations and distribute the newspaper in a number of locations throughout Sacramento County will be unconstitutionally suppressed.
"If someone asks you on the street for money for cancer research, we call that raising money.," said Mark E. Merin, a Sacramento-based civil rights attorney. "But if people ask for money to support themselves, that's now called a criminal offense. There are hundreds of homeless people on the streets of Sacramento without any means of support who depend upon the generosity of the public for their very survival. This ordinance, unless struck down, criminalizes merely asking for life-saving donations. That is both heartless and, fortunately, unconstitutional."