Article Media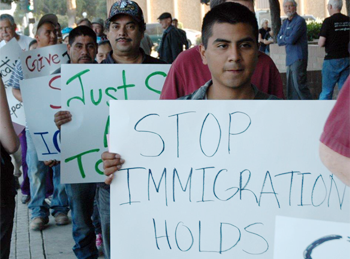 San Francisco - The ACLU of Northern California (ACLU-NC) and the Lawyers' Committee for Civil Rights (LCCR) today filed a lawsuit to compel Immigration and Customs Enforcement (ICE) to comply with a request for documents under the federal Freedom of Information Act (FOIA). The FOIA request stems from concerns over alleged violations of law and due process during immigration raids undertaken in Northern California since May 2006. The civil rights organizations seek documents that would shed light on policies and practices underlying ICE agents' conduct during the immigration raids. The law firm of Orrick, Herrington & Sutcliffe LLP is serving as pro bono counsel for the plaintiffs, along with attorneys from the ACLU-NC, LCCR and the ACLU Immigrants' Rights Project.
The ACLU-NC, LCCR, and the San Francisco Bay Guardian first requested documents from ICE in March 2007, during an active period of residential immigration raids in the San Francisco Bay Area. Despite repeated assurances from ICE staff, the agency has failed to provide any records in response to the request.
The ICE raids and their lingering impact on communities in the region have commanded significant attention from the media, community organizations, schools, and lawmakers. Abusive practices reported in connection with the raids include the misuse of warrants, illegal entries and searches, inappropriate practices related to children and schools, misrepresentation of ICE agents as local police officers, abusive treatment, violations of due process and racial profiling - the broad targeting of entire communities for interrogation and detention.
"Do ICE policies accord with the Constitution and other federal laws? Are ICE agents complying with ICE policies? We are seeking access to government records so that we can evaluate whether ICE is routinely breaking laws that protect civil rights," said ACLU attorney Julia Harumi Mass.
FOIA was established to promote open government, prevent the entrenchment of secret government practices, and permit public scrutiny of governmental action that is of widespread concern. "No federal agency should be allowed to demonstrate such a blatant disregard of its obligation to make records available to the public under FOIA, particularly given the widespread allegations of civil rights abuses in connection with the ICE raids," explained pro bono counsel Rocky Tsai of Orrick, Herrington & Sutcliffe LLP.
The lawsuit, filed in the U.S. District Court in San Francisco, seeks to compel ICE to release 13 classes of documents, including financial records related to the costs of the raids, communications between ICE and local law enforcement regarding the enforcement actions, statistics pertaining to the scope and results of the raids, and documents pertaining to potentially abusive practices. These alleged abuses include racial profiling, questioning children and conducting raids near schools, entering residences without a warrant, and misidentifying ICE agents as local police officers.
In late 2006, ICE implemented "Operation Return to Sender" in Northern California. Homeland Security Secretary Michael Chertoff and other officials claimed that the campaign was aimed at capturing "fugitive aliens," with the highest priority given to apprehending individuals who pose a threat to national security or the community and whose criminal records include violent crimes. In looking closely at available data, ACLU-NC found that 94% of those arrested by the San Francisco Fugitive Operations Team between January 1 and March 31, 2007 did not fit within the category of "criminal fugitives," and the majority was not subject to outstanding deportation orders.
The lawsuit, American Civil Liberties Union of Northern California and Lawyers' Committee for Civil Rights of the San Francisco Bay Area vs. U.S. Immigration and Customs Enforcement, N.D. Cal. Case No. CV 08 2744, seeks disclosure of records sought in the plaintiffs' March 2007 FOIA request pertaining to all civil immigration enforcement actions conducted by ICE in Alameda, Contra Costa, Fresno, Marin, Napa, San Benito, San Francisco, San Mateo, Santa Clara, Santa Cruz, Solano, Sonoma, and Tulare Counties since May 2006.
Learn more:
Complaint (June 2, 2008)
FOIA Letter to ICE (March 6, 2007)
ACLU Seeks Records on Immigration Enforcement Actions in Northern California
ACLU-NC & Lawyers' Committee for Civil Rights of the SF Bay Area v. U.S. Immigration & Customs Enforcement