Article Media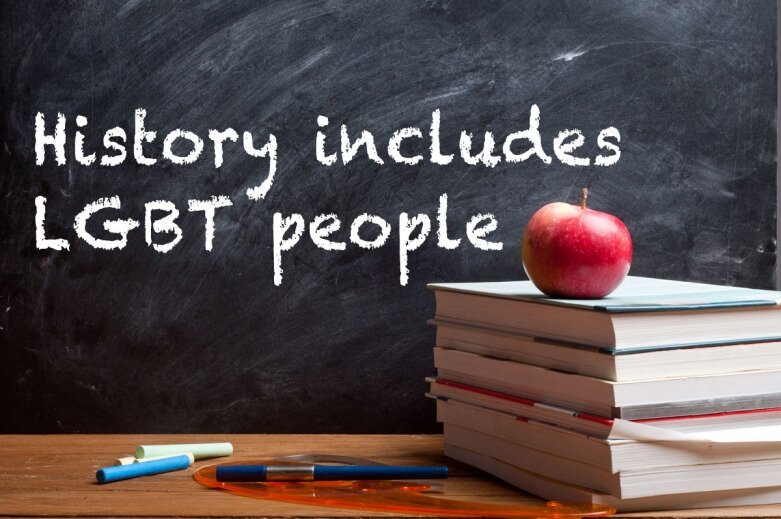 Our Family Coalition: Frida Wahlin-Lubish, (510) 619-5551
LA LGBT Center: Gil Diaz, (323) 993-7622, (415) 940-5574 Mobile
Sacramento - The California State Board of Education announced today that it has adopted a new History-Social Science Framework. The Framework sets out guidelines for K-12 schools to implement content standards for history and social science instruction. Among the many changes made to the Framework, LGBT people and their contributions to California and US history are accurately represented for the first time.
The History-Social Science Framework aligns with current historical scholarship on LGBT people by including key historical figures, essential moments in the struggle for equality, and the evolution of communities and identities. Content related to LGBT history has been incorporated in multiple grade levels throughout elementary, middle, and high school.
The new Framework complies with the Fair, Accurate, Inclusive, and Respectful Education Act of 2012 (FAIR Education Act), which ensures that important contributions by LGBT Americans and people with disabilities are no longer excluded from history education. The FAIR Education Act added these groups to an existing list of underrepresented groups already in the state's longstanding inclusionary education requirement.
"The new Framework's thorough inclusion of history of LGBT people, events, and issues reflects the substantial professional scholarship in this area that has been produced over the past four decades," said Don Romesburg, Framework Director of the Committee on LGBT History. "It allows all students to think critically and expansively about how that past relates to the present and future roles that they can play in an inclusive and respectful society."
The new History-Social Science Framework provides teachers with a guide for what content about LGBT people to incorporate into the key concepts, frameworks, and events of U.S. history already taught in history classes. School districts will determine the specific curriculum for their students.
"For the last few years, since the FAIR Education Act passed I've been teaching my 11th grade US history students about the LGBT civil rights movement. For many, it has been the first time they have experienced LGBT content in the classroom," said Miguel Covarrubias, teacher at Franklin High School in Highland Park. "Some are initially uncomfortable until they realize it's just about history, while for others, it makes a huge difference to know how they are part of the evolving American story. I look forward to using the new History-Social Science Framework to extend my teaching about LGBT people across the history curriculum."
For the past two years, LGBTQ youth and advocacy organizations such as Our Family Coalition, GSA Network, Equality California, Los Angeles LGBT Center, and the ACLU along with parents and educators, have worked to ensure that the History-Social Science Framework is LGBT-inclusive. They have been joined by the Committee on LGBT History, an affiliated society of the American Historical Association, which assembled twenty leading scholars of LGBT history across the U.S. to make research-informed and evidence-based recommendations for LGBT-related Framework revisions.
"For the first time, the History-Social Science Framework guides teachers as to what LGBT content to include that is historically accurate and appropriate for each grade level, which is an important step toward shedding light on the important inclusion of LGBT people in our history," said Judy Appel, Executive Director of Our Family Coalition and member of the Berkeley School Board. "Local schools and teachers will have the flexibility to determine how that content will be taught in specific lesson plans."
The new Framework will facilitate schools' LGBT-inclusive curricula and help create learning environments where students can thrive. By seeing themselves reflected, LGBTQ students are validated, which builds stronger opportunities for their academic and social success. LGBT-inclusive curricula also benefits all students by improving overall school climate.
"I really liked learning about Stonewall and Harvey Milk in my AP US History class this past year," said Allyson Chiu, a rising senior at Cupertino High School in the San Francisco Bay Area. "But I still encountered a lot of misunderstanding and ignorance about LGBT people from my classmates. If all California students started in earlier grades and learned about LGBT people across the entire history of the United States, imagine how much more welcoming and safe schools would be."
"Through our partnership with school districts across the state, we have witnessed the laborious but triumphant emergence of leaders in school communities advocating for LGBT-inclusive history," said Joey Hernández, Educational Policy and Programs Manager for the Los Angeles LGBT Center. "Now, with the aid of the new Framework, we no longer have to depend solely on these leaders as examples, but look forward to them joining a statewide foundation of inclusive classrooms."
"California has long been a leader in acknowledging and advancing the rights of LGBTQ Californians," said Melissa Goodman, Director of the ACLU of Southern California's LGBTQ, Gender and Reproductive Justice Project. "Today California has taken yet another step to affirm our shared values of inclusivity and fairness by providing our schools with the necessary framework and guidelines to implement the FAIR Education Act's LGBT-inclusive history requirements."
Defensores de Derechos LGBT y Académicos Celebran Nuevo Marco de Historia y Ciencia Social de California
Contactos de Prensa:
Our Family Coalition: Frida Wahlin-Lubish, (510) 619-5551
LA LGBT Center: Gil Diaz, (323) 993-7622, (415) 940-5574 Mobile
Sacramento – La Mesa Directiva de Educación de California anuncio hoy día que ha adoptado un nuevo Marco de Historia y Ciencia Social. El Marco contiene directrices para instrucción de contendió básico de historia y ciencia sociales para escuelas de K-12. Entre los muchos cambios hechos al Marco, la comunidad LGBT y sus contribuciones a California e la historia de los Estados Unidos serán presentados con exactitud por primera vez.
El Marco de Historia y Ciencia Social está alineado con la más actualizada erudición de historia de la comunidad LGBT incluyendo claves personalidades históricas, momentos esenciales en la lucha para igualdad, y la evolución de comunidades e identidades. Contendido acerca de historia LGBT ha sido incorporado en varios niveles escolares por toda la primaria, secundaria, y preparatoria.
El nuevo Marco cumple con la Ley de Educación Justa, Exacta, Incluyente, y Respetuosa de 2012 (FAIR Education Act en ingles, y Ley de Educación Justa en este documento), que asegura que las importantes contribuciones de estadounidenses LGBT y personas con discapacidades no sean excluidas de instrucción de historia. La Ley de Educación Justa añade estos grupos a una lista de grupos poco representados que ya existe en los requisitos duraderos del estado para una educación incluyente.
"El nuevo Marco con su inclusión expansiva de la historia de la comunidad, momentos históricos, y temas LGBT refleja la erudición profesional en este área de estudio que ha sido producida por cuatro décadas", dijo Don Romesburg, director del Proyecto Marco de la Comité de Historia LGBT. "Deja que todos los estudiantes piensen críticamente y de modo muy abiertamente acerca de cómo el pasado tiene que ver con el presente y los papeles futuros que ellos puedan jugar en una sociedad incluyente y respetuosa".
El nuevo Marco de Historia y Ciencia Social proporciona a maestros directrices para cual contenido acerca de la comunidad LGBT pueden incorporar en los conceptos claves, marcos, y momentos históricos de los Estados Unidas ya enseñados en clases de historia. Distritos escolares van a determinar el currículo específico para sus estudiantes.
"En los pasados años, desde que la Ley de Educación Justa fue aprobada, he estado educando a mis estudiantes de Historia de los Estados Unidos del undécimo grado acerca del movimiento de derechos civiles LGBT. Para muchos ha sido la primera vez que han sido expuestos a contenido LGBT en el salón de clase", dijo Miguel Covarrubias, un maestro de Franklin High School en Highland Park. "Algunos inicialmente están incómodos hasta que se dan cuenta que es solo parte de aprender historia, y para otros, hace una gran diferencia saber como ellos son parte de la evolución del cuento estadounidense. Estoy emocionado de usar el nuevo Marco de Historia y Ciencia Social para expandir mis enseñanzas de la comunidad LGBT atreves del currículo de historia".
Durante los últimos dos años, las organizaciones de juventud y abogacía, como Our Family Coalition, GSA Network, Equality California, Los Angeles LGBT Center, y la ACLU de California, junto con padres y educadores, han trabajado para asegurar que el Marco de Historía y Ciencia Social es LGBT-inclusivo. Se han unido por la Comité de Historia LGBT, una sociedad afiliada de la Asociación Histórica Americana. La Asociación reunió a 20 académicos principales de la historia LGBT a través de los Estados Unidos para hacer recomendaciones basadas en la investigación y la evidencia para las revisiones del marco relacionadas con LGBT.
"Por primera vez, el Marco de Historía y Ciencia Social guía los maestros para incluir contenido LGBT que es históricamente exacto y apropiada para cada nivel de grado. Este es un paso importante para dar luz sobre la inclusión importante de las personas LGBT en nuestra historia", dijo Judy Appel, directora ejecutiva de la Coalición Nuestra Familia y una miembra de la Junta Escolar de Berkeley. "Las escuelas y los maestros tendrán la flexibilidad para determinar la forma en que el contenido será enseñada en planes de lección específicos".
El nuevo Marco facilitará currículo LGBT-inclusivo en las escuelas y ayudara a crear un ambientes de aprendizaje donde los estudiantes puedan prosperar. Por verse reflejados, se validan los estudiantes LGBT, que crea más oportunidades para su éxito académico y social. El currículo también beneficia a todos los estudiantes por mejorar el clima escolar total.
"Me gustó aprender sobre Stonewall y Harvey Milk en mi clase AP de historia de los Estados Unidos este año pasado", dijo Allyson Chiu, quien estará en el 12do grado este año en Cupertino High School, cerca de San Francisco. "Pero todavía encontré mucho malentendido e ignorancia sobre la gente LGBT de parte de mis compañeros de clase. Si todos los estudiantes de California comenzaran en grados anteriores para aprender sobre personas LGBT a lo largo de toda la historia de los Estados Unidos, imagine cuanto más acogedor y seguras estarían las escuelas".
"Mediante nuestra asociación con los distritos escolares en todo el estado, hemos sido testigos del arduo pero triunfante aparición de líderes en comités de la escuelas luchando por historia LGBT-inclusivo", dijo Joey Hernandez, gerente de las políticas y los programas educativos para el Centro LGBT de Los Angeles. "Ahora, con la ayuda del nuevo Marco, ya no tenemos que depender únicamente de estos líderes como ejemplos, pero podemos ver que ellos so unan a una base estatal de clases inclusivas".
"California durante mucho tiempo ha sido un líder en el reconocimiento y avance de los derechos de californianos LGBTQ", dijo Melissa Goodman, directora del Proyecto sobre LGBTQ, género y derechos reproductivos de la ACLU del Sur de California. "Hoy California ha tomado otro paso para afirmar nuestros valores compartidos de inclusión y equidad al proporcionar a nuestras escuelas con el marco y directrices necesarios para implementar los requisitos de historia incluyente de la comunidad LGBT de la Ley de Educación Justa".