Article Media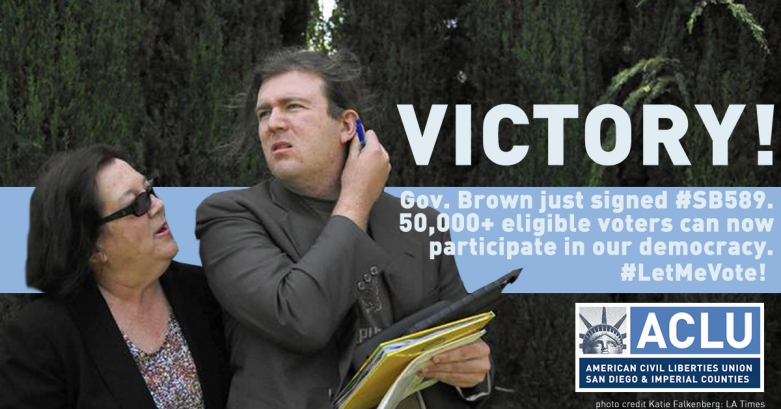 California courts have been quietly preventing people with intellectual or mental health disabilities from participating in the political process by making assumptions about their capacity to participate in our democracy. But today, by signing Senate Bill 589, Gov. Brown has created a new protection for more than 50,000 Californians living with disabilities to ensure they do not have their voting rights unfairly taken away.
SB 589, authored by San Diego Senator Marty Block, protects the voting rights of citizens under conservatorship by creating a presumption that they have the right to vote.
Conservatorship is a legal process in which a judge appoints an individual to make decisions for another person. There are many reasons an individual may need a conservator. For example, an individual with a developmental disability may need a conservator to assist him with paying bills, applying for benefits, or making living arrangements. Contrary to a common misperception, conservatees do not – and commonly should not- lose all of their decision-making rights. Instead a court must consider a number of rights individually, including the right to vote, and decide which ones should be assigned to a conservator.
Stephen Lopate is a Californian currently under conservatorship. Stephen, a 21-year old man living with his mother and conservator, Teresa, was diagnosed with autism before the age of two.
When Stephen was 18, Teresa sought conservatorship of Stephen's medical and financial affairs with the help of a self-help clinic. At the clinic, she and the rest of the potential conservators were instructed to check off a series of boxes, including one to indicate that the conservatee could not complete an affidavit of voter registration. It was not until later that Teresa understood that checking that box actually resulted in stripping Stephen of his right to vote.
When Teresa realized what had occurred and that Stephen was interested in politics, she sought the help of her son's attorney. Her attorney responded that the very idea of Stephen voting was contradictory to the concept of the need for a conservator. Stephen's attorney filed a report with the court that said Stephen was not capable of voting because he could not fill out a voter registration form. Teresa had to seek the help of another attorney to convince the court to understand the accommodations Stephen needs to communicate and to express his desire to vote.
SB 589 protects the voting rights of people with disabilities by no longer basing the revocation of the right to vote on whether a person can fill out a voter registration form, but instead on whether a person can express a desire to participate in the voting process. The new standards are based on a series of recommendations for defining and assessing capacity to vote adopted by the American Bar Association in 2007.
By signing SB 589, Gov. Brown is not only protecting the voting rights of Californians, he has also created a model for states around the country. The example California is setting is important because many states still routinely deprive people under conservatorship of their right to vote.
"Our country has a long history of preventing people with intellectual or mental health disabilities from fully participating in our democracy. Many states place significantly higher burdens on people with disabilities to demonstrate the capacity to vote, including requiring them to answer questions not required of others," said ACLU disability rights counsel Claudia Center. "This law puts an end to these unfair practices and serves as a model for the nation."
Stephen Lopate said that he is thrilled to vote in this upcoming election, and he is "grateful and happy to be recognized as a citizen of this country."
Thanks to Stephen's brave perseverance, over 50,000 Californians with disabilities will never have to face the same discrimination when exercising their right to vote.