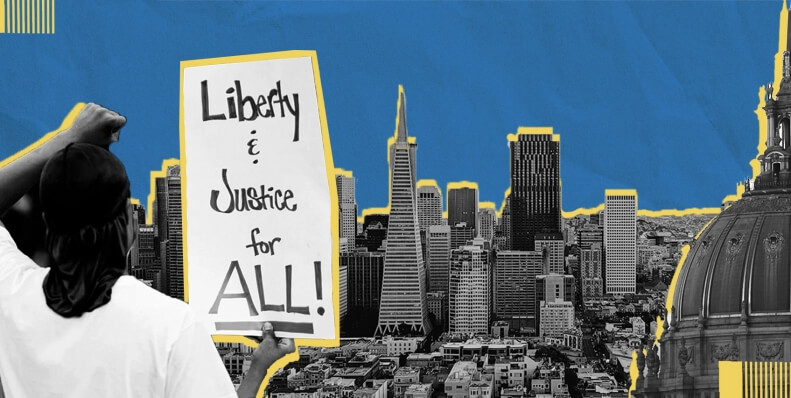 Vote NO on Proposition H
The ACLU of Northern California strongly opposes the recall of San Francisco District Attorney Chesa Boudin, whose policies aimed at reducing mass incarceration and holding police accountable are under attack.
The ACLU of Northern California rejects the premise that keeping the public safe means abandoning our values. That is a false choice. On June 7, we must send a strong message to police unions and their wealthy allies, who are exploiting our fears to reinstate failed policies that devastate communities of color.
We urge San Franciscans to vote "No" on Proposition H on June 7.
Four reasons to vote NO on the District Attorney recall
Chesa Boudin has implemented public safety policies the ACLU supports that hold people accountable and reduce youth and adult incarceration. He ended cash bail, created an independent Innocence Commission to review potential wrongful convictions, cut the county jail population, expanded rigorous diversion programs, and pledged never to charge children as adults. By putting these policies into practice, Boudin has sought to keep his promise and fix a broken legal system that disproportionately punishes Black and Brown people.


Chesa Boudin has fulfilled his campaign promise to put violent police officers on trial when they break the law. He filed the first-ever homicide charges against an SFPD officer, prosecuted a police officer who beat an unarmed Black man with a baton, and refiled felony charges against Alameda County Sheriff's Deputies who viciously battered an unarmed man in San Francisco.


Chesa Boudin cares about victims and has supported survivors of sexual assault and domestic violence. He initiated programs to provide housing and transportation for survivors of domestic and sexual violence. Boudin exposed the San Francisco Police Department's disturbing history of using DNA from rape kits to identify survivors as suspects in unrelated criminal cases, a practice advocates said could further discourage people from reporting sexual assault.


The San Francisco police union and other groups that opposed Chesa Boudin after he was duly elected immediately set out to undermine him and distort his record. Supporters of the recall are seizing the social disruption the pandemic caused to exploit our fears and derail criminal justice reform.
Important Dates to Make Your Voice Heard
Election Day is June 7, and San Franciscans will be asked whether to keep District Attorney Chesa Boudin in office. On May 9, San Francisco voters will start receiving mail ballots.
To vote, you can either mail back your ballot, drop off your ballot at designated locations, or vote in person.
Check your registration ahead of May 9 to ensure that elections officials have your current mailing address and language preferences.
Frequently Asked Questions
Text or Call to Oppose the Recall | Grab your laptop and help us text and call SF voters! Join ACLU staff to mobilize San Francisco voters and defend concrete criminal justice reforms.
---
Ad paid for by American Civil Liberties Union of Northern California Committee Opposing the Recall of Chesa Boudin. Committee major funding from: 1. American Civil Liberties Union of Northern California ($400,000). Financial disclosures are available at sfethics.org.