Maricela Sanchez
Image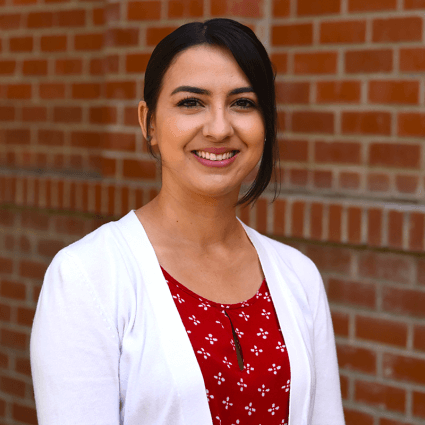 Coordinadora de Organización y Programa del Valle Central
Maricela Sánchez es asistente de movilización y participación cívica del Valle Central en la ACLU del norte de California. Ella trabaja en la oficina de Fresno para avanzar en el trabajo de la ACLU del norte de California sobre los derechos de los inmigrantes y los problemas de justicia penal a través de campañas para el cambio de políticas, la legislación, la organización y participación de la comunidad, y a través de la educación pública.
Antes de unirse a la ACLU-NC en su puesto actual, Maricela fue becaria de campo de la ACLU-NC para el Condado de Tulare. Su trabajo se centró en realizar presentaciones de Conozca sus derechos a las comunidades rurales en todo el condado de Tulare. También se enfocó en establecer Valley Watch, una red de respuesta rápida y acompañamiento que apoya a los inmigrantes indocumentados durante sus interacciones con la policía y el ICE.
Maricela también ha trabajado como instructora de comunicación en Reedley College, West Hills College Lemoore y College of the Sequoias en Visalia. Ella ha impartido clases de oratoria, clases de comunicación grupal y clases de comunicación interpersonal a muchos estudiantes universitarios de la comunidad de Central Valley.
Maricela se graduó de California State University Fresno con una licenciatura en comunicación. Fue profesora asociada de posgrado en Fresno State con el Departamento de Comunicación y enseñó su primer curso universitario a la edad de 23 años. Ha trabajado en proyectos con el equipo de debate de Fresno State, el comité de flor de durazno y el comité de cena y debate. Maricela también ha presentado en la Conferencia de la Asociación Nacional de Comunicación en Chicago como panelista de debate sobre las tendencias futuras de los sitios de redes sociales.
En su tiempo libre, Maricela es voluntaria en la Coalición de Defensa de la Seguridad de los Pesticidas (CAPS) para garantizar mejores condiciones de trabajo y de vida para los trabajadores agrícolas y las comunidades rurales del condado de Tulare. El Valle de San Joaquín es increíblemente importante para Maricela y promete hacer lo que pueda para mejorar las vidas de los residentes del Valle Central. Maricela también es voluntaria en la Liga Milagrosa en apoyo de su hermano pequeño, Ponchito, que tiene síndrome de Down. Maricela es una ávida asistente de conciertos, le encanta pasar tiempo con su familia y le gusta cocinar una variedad de cocinas diferentes.