Article Media
Image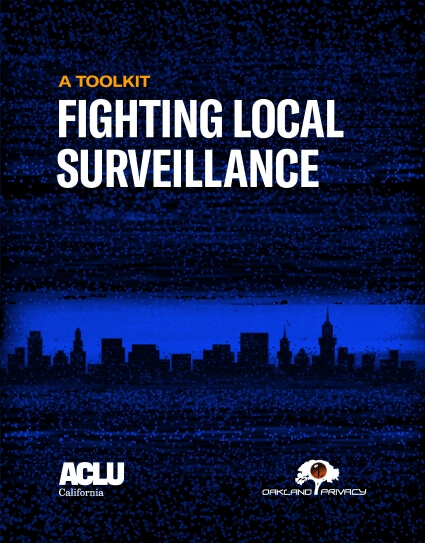 You can fight government surveillance
In 2019, San Francisco passed a landmark law banning government facial recognition and requiring public oversight for local decisions related to the acquisition and use of other surveillance technologies such as cameras, drones, and more. That effort, led by the ACLU in deep partnership with civil rights partners, is part of a bigger movement afoot in the U.S. In more than a dozen cities and counties, communities have passed laws ensuring that decisions about high-tech surveillance are made by the community through the democratic process, not in secret by police and surveillance companies acting alone.
You can stop secret surveillance in your community, too.
Together, we are achieving important victories against secret and dangerous surveillance. We are raising awareness of how surveillance technology like drones, stingrays, and facial recognition exacerbate discriminatory policing, suppress dissent, and facilitate harm to immigrants and people of color. We are building the political coalitions and power essential to win surveillance reform and durable social change. We are changing the narrative by explaining why surveillance systems make us less safe and less free. We hope you'll join us.
This toolkit shows how to spark a movement and win lasting change.
This Toolkit summarizes many lessons we have learned about how to work effectively together and fight against local surveillance. It builds on the ACLU of California's report, Making Smart Decisions About Surveillance: A Guide for Community Transparency, Accountability & Oversight, which highlighted important issues about local surveillance and charted a path to reform.
This toolkit is a resource for your surveillance reform campaign.
Change is never easy to achieve, but this Toolkit describes the methods and strategies you can use to uncover local surveillance programs, organize and build political power around issues of surveillance, and effectively push for policy and legal reforms. The accompanying Appendix (available online at https://www.aclunc.org/surveillancetoolkit) contains dozens of sample documents, letters, and other materials you can customize for your own surveillance reform campaign.
We hope you use this resource to fight unaccountable surveillance and protect the civil rights of everyone in your community.
Fighting Local Surveillance: a Checklist
Acknowledgements
This publication was underwritten with support from the ACLU Foundation and the ACLU's generous members and donors.
Authors: Matt Cagle, ACLU of Northern California & Tracy Rosenberg, Oakland Privacy
Contributing Writers and Editors: Tessa D'Arcangelew, Jennifer Jones, Raquel Ortega, Nomi Conway, Chris Conley
Layout & Design: Teegan Lee, Gigi Harney, Ison Design