San Jose Police Department's Secret Drone Purchase: Where's the Accountability?
Jul 30, 2014
Page Media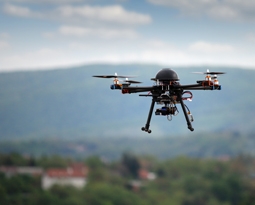 The San Jose City Council has approved a police request to acquire a drone – without public debate – illustrating the surreptitious way in which local law enforcement agencies have obtained sophisticated surveillance technology since 9/11.
No debate
Last November, the San Jose Police Department (SJPD) obtained approval to spend $8,000 in federal grant money to buy an unmanned aerial vehicle, also known as a drone, purportedly for its bomb squad, according to city documents uncovered by the ACLU of Northern California in the course of other research.
The item appears only as a line-item in a memo from Police Chief Larry Esquivel to the city council as part of a request to accept almost $1 million in Department of Homeland Security (DHS) funding. When the proposal came up in the city council meeting, it was on the consent calendar – there was no council discussion of what funds would be used for.
The San Jose police know – or should know – that drones are controversial. Police departments in Alameda County, San Mateo County, and San Francisco have all abandoned efforts to acquire drones in recent years in the face of public opposition. No wonder, then, that SJPD would try to quietly tuck the request into the consent calendar.
SJPD's approach to acquiring drone technology stands in stark contrast to its lengthy, deliberative process for considering the use of body cameras. Earlier this year, police convened a body camera committee to study technology needs and evaluate potential systems, identify immediate and longer-term costs, and develop a comprehensive use policy.
No policy
Police said the drone, which has not yet been deployed, will be used for the bomb squad – flying over hard-to-reach areas to give police a live view of a suspicious package or suspected explosive. But Esquivel told Vice that the city has no policy overseeing its use of the drone. Moreover, in justifying redactions of released documents, he explained that "the effect of disclosure would be to enable law violators to escape detection." The drone could easily be used for surveillance – the project proposal explains that the drone comes with a video camera, and purchasing documents show that SJPD acquired a video transmitter along with the UAV.
We've been here before. When the Alameda County sheriff sought a drone in 2012, he said it would only be used for search-and-rescue missions. But documents obtained by the ACLU of Northern California revealed that the sheriff also wanted to use the drone for intelligence gathering and surveillance.
Drones can be used for a whole range of things, from the benign, like conservation efforts, to the highly objectionable, like dragnet surveillance and targeted killings. Today, SJPD may say the drone will be used to inspect suspected bombs, but tomorrow it may want to use it to survey a "high-crime" neighborhood. That's why having a policy matters.
No accountability
The San Jose Police Department never should have even sought funding for a drone without a robust public debate and city council approval. What we see here is yet another example of how the influx of federal DHS grant dollars, and circumvention of normal public process and oversight procedures that accompany city budget requests, undermine the ability of the public and its representatives to exercise appropriate oversight over surveillance activities.
DHS has invested millions of dollars in terrorism-prevention and law-enforcement initiatives in the Bay Area since 9/11 through the Urban Areas Security Initiative (UASI). UASI funding decisions are made by an 11-member group made up of representatives of San Francisco, Oakland, and San Jose and the 12 surrounding counties. For the last annual cycle of funding, through the end of 2013, DHS funneled $33.8 million to the greater Bay Area, with San Jose winning $1.5 million.
When cities do not have the proper mechanisms in place to ensure transparency, accountability, and oversight when police departments are seeking to use outside funds for surveillance technology, the result is law enforcement agencies with effectively autonomous decision making. And that's a scenario ripe for problems.
Moreover, SJPD plans to collaborate with other police departments in the Bay Area, allowing 13 other bomb squads to use its new drone. The Santa Clara Board of Supervisors and neighboring city councils should also be concerned and make sure there is robust public debate about the propriety of local agencies using a drone and for what purposes.
Bring it back for council debate
The San Jose Mercury News recently emphasized the need for legal safeguards against drone use. Silicon Valley "needs to be proactive in helping write laws to prevent unwarranted intrusions into our privacy," the paper wrote in a strongly-worded editorial last month. It is very disappointing that in the capital of Silicon Valley, just the opposite has happened. As California debates a law regulating drones, here is San Jose, quietly acquiring one with federal funding and no public debate.
This is a good opportunity for the city council and local city agencies to show the community that they are being proactive in respecting rights. When communities are considering drones or other technology that can easily be used to invade privacy, the public expects to know what's happening and have meaningful opportunities to weigh in early in the process – not learn about it nine months later.
At a minimum, the city council needs to put this matter back onto the city council agenda so that the issue can be debated on the merits and community members have the opportunity to voice their concerns.
Thomas Mann Miller is with the Technology and Civil Liberties Project of the ACLU of Northern California.