Article Media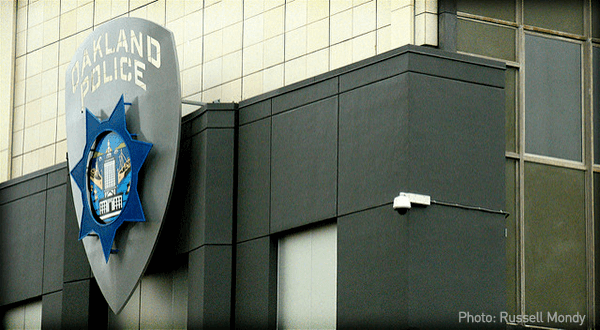 May 9, 2017
The Oakland City Council's Public Safety Committee has voted to move forward with Oakland's groundbreaking Surveillance Technology Ordinance. If you live in Oakland, take action here to tell the City Council to support the ordinance when it comes to a full vote. ACLU of Northern California organizer Tessa D'Arcangelew gave the following statement at tonight's meeting:
Hello, my name is Tessa D'Arcangelew and I'm an organizer at the ACLU of Northern California with the Technology and Civil Liberties team. I speak today on behalf of the ACLU and our 1.6 million members across the country.
I am here to strongly encourage the Public Safety Committee to vote yes on the current version of the surveillance technology ordinance. The Oakland Privacy Commission—the first of its kind in the country—is in and of itself a model for how cities can thoughtfully consider privacy and surveillance concerns in the digital age. And, the surveillance technology ordinance up for a vote this evening was thoroughly researched and vetted by that commission.
The ACLU is aware of the incredible amount of community input and collaborative process that has gone into the development of the surveillance technology ordinance that is being considered today, and as a result, what you have before you is truly a model for the country.
It is particularly important for Oakland to be taking this step to enact a surveillance ordinance now. We know surveillance—particularly when acquired or used in secret, without the input from a diversity of community members and robust oversight—is often used to target people of color and silence dissent. We know that immigrants and Muslims in our community are facing increased threats and the need for social protest is on the rise.
This ordinance will make sure that the right questions are asked and answered about surveillance systems, resulting in important transparency, accountability, and oversight.
This ordinance will help ensure that the people of Oakland have the voice they need in surveillance decisions that affect their lives and families; that the rights of community members are protected;
And this ordinance will help ensure that Oakland's precious resources are not spent on costly, ineffective and invasive surveillance that creates more problems than it solves.
The ACLU strongly urges the committee to vote yes for transparency, democracy, and basic fairness by voting yes on the surveillance ordinance. Thank you.