ACLU-NC Urges Santa Clara County to Keep Current Immigration Policy
Oct 29, 2013
Page Media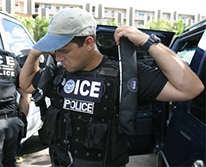 On November 5, the Santa Clara County Supervisors will consider proposals to change to the county's current policy on immigration detainer requests from ICE (Immigration Customs and Enforcement). Today, the ACLU of Northern California sent a letter to Santa Clara Supervisors urging them to keep the current policy.
"Santa Clara's detainer policy has been a beacon for immigrants' rights throughout the United States since it was adopted in 2011. Rather than turning residents over to a deeply flawed immigration enforcement system based on their past offenses or charges, Santa Clara County can and should rely on its criminal justice system to decide questions of pretrial detention and post-conviction consequences for criminal conduct. By retaining its current immigration detainer policy, Santa Clara County will live up to its long-standing principles and policies of staying out of civil immigration enforcement and protecting public safety and civil and constitutional rights."
Along with Cook County, Illinois, Santa Clara stopped holding people in local jails in 2011 if the detention was based solely on suspected immigration violations. California's legislature explicitly contemplated and allowed policies such as Santa Clara's when it recently passed the TRUST Act (AB 4-Ammiano), a bill to create minimum standards for enforcement of immigration detainer requests that limits local participation in immigration enforcement.
Santa Clara's current policy saves the County from expending unreimbursed costs to hold people identified by ICE. Community organizations—and even the Sheriff—acknowledge the policy has increased community trust in law enforcement. Under the policy, crime witnesses and victims can approach local police without fear, making it easier for the police and sheriff to do their jobs.
Perhaps the most important reason to maintain the current policy is that the criminal justice system is better suited to providing fair and consistent outcomes to people brought into local custody. When local police are in the business of enforcing immigration detainers based on past convictions and current (unproven) charges, community members are funneled into an inflexible and harsh deportation machine that fails to recognize individual circumstances.
UPDATE (November 5, 2013): Victory! Santa Clara Supervisors vote to keep commonsense immigration policy in effect.
Julia Harumi Mass is a staff attorney with the ACLU of Northern California.
Learn more:
Jailed Illegal Immigrants: Santa Clara County Sticks with Lenient Policy
ACLU Applauds Gov. Brown for Signing the TRUST Act
California Attorney General: Immigration Detainers are Voluntary
Immigrants and Citizens Sue L.A. for Illegal Detentions
ACLU Supports Drivers License for Immigrants, Urges Vigilance