Angelica Salceda Advocates for Student Parents' Rights in the Central Valley
Jun 06, 2014
Page Media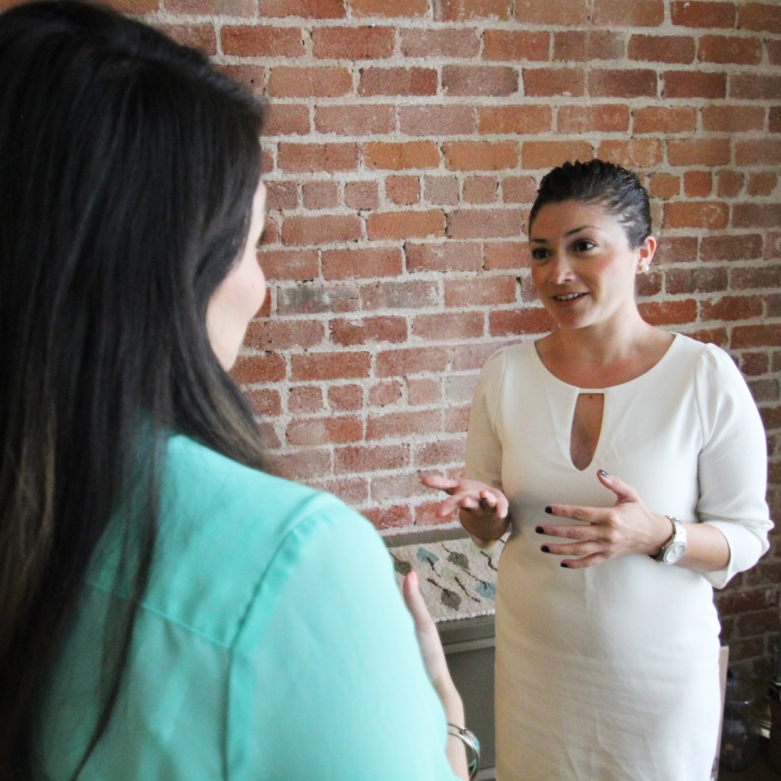 Angelica Salceda, a 2013 Equal Justice Works Fellow, sponsored by Fenwick & West LLP, is an advocate for high school students who are also parents. At her host site, the ACLU of Northern California, she is helping implement the Pregnant and Parenting Student Project for teen parents to receive the adequate resources they need to succeed in their academics. Below Angelica discusses her important work in the community with Equal Justice Works.
Q: What inspired you to represent student parents and pregnant students?
A: As an elected student leader for the University of California system, I advocated in favor of accessible, affordable, and quality higher education for all Californians. When I spoke with high school students and other advocates, I discovered an overwhelming concern for students not receiving specific college-preparatory courses required for enrollment into a four-year university.
Additional research revealed that this was particularly true for pregnant and parenting students, and simultaneously, they faced institutional barriers that hindered their academic success. For example, some student parents were excluded from participating in extracurricular activities based on their pregnancy status or accumulated unexcused absences because of a child's illness—despite a state law that allowed them to be excused for such reasons. This same segment of students is pushed out into non-comparable alternative schools, effectively ending their pathway towards higher education.
Q: What are the barriers faced by underserved teen parents that you're trying to address?
A: The Central Valley—a region I call home—has six out of 10 counties with the highest three-year aggregated teen birth rates in California. Most California teen mothers are young women of color, primarily black and Latino, living in poverty. Despite these figures, there is a lack of legal services for pregnant and parenting students in this region. My fellowship project is in the initial stage of identifying the best litigation strategy and policy reforms. Already, the project has reached more than 200 teen mothers and fathers, including foster youth. Through a series of questionnaires, surveys, and individual interviews with teen parents, I've helped gathered relevant data on how teen parents are pushed out into substandard educational alternatives that hinders them for pursuing higher education. The data serve as a first step to provide student parents with better educational opportunities.
Q: How have you helped student parents acquire the educational opportunities that they deserve?
I have worked with a number of teen parents, including Talia Rodriguez who graduates from Eastin Arcola High School in Madera, CA this month. Talia was discouraged by those in the academic setting to leave the high school because she was a student parent. However, with the California School Age Families Education Program (Cal-SAFE) at her school, Talia was able to receive childcare for her son so that she could complete her studies.
The project has also been victorious in advocating for local school district funding of services through the new Local Control Funding Formula, including childcare for parenting students. By participating in the public comment process, attending school board meetings, meeting with school administrators, and submitting substantive feedback on the funding priorities of school districts, the project has exerted pressure on districts to not eliminate programs that support the academic success of pregnant and parenting students.
Through partnership with other organizations, we've offered know-your-rights trainings, assisted students in understanding their educational options, and connected students with community resources. Additionally, the project is currently reviewing and analyzing educational policies of more than 80 Central Valley school districts—a task being completed with the help of my sponsoring organization, Fenwick & West LLP.
Q: How does Equal Justice Works supports your project for student parents?
My two year fellowship has provided the necessary resources and training to ensure that pregnant and parenting students have a voice at local school districts in the Central Valley of California. My host organization, ACLU of Northern California, ensures that the Pregnant and Parenting Student project collaborates with existing organizations in the region working on issues complimentary to the project, such as advocating for comprehensive and medically accurate sex education in public schools.
The mentorship and professional support provided by Equal Justice Works has and will continue to prepare me as an advocate for these students in the Central Valley.
This was originally posted at Equal Justice Works.