Fifty Years After MLK's Death, We're Still Fighting for Civil Rights
Jan 12, 2018
Page Media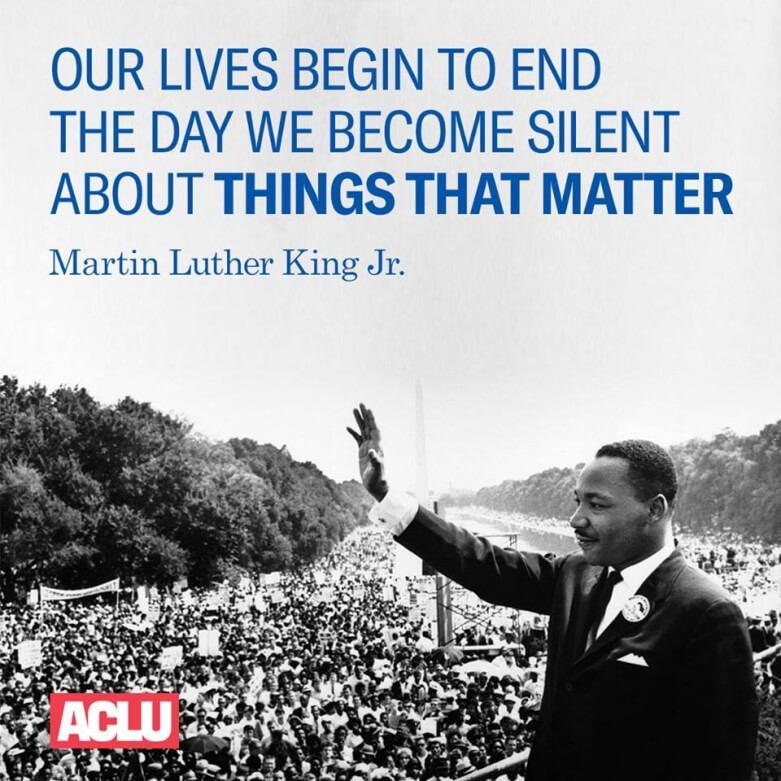 "Our lives begin to end the day we become silent about things that matter." –Martin Luther King Jr.
Martin Luther King Jr. was a radical leader who demanded an end to racial injustice, criticized the complicity of white moderates, and advocated for a radical redistribution of political and economic power. His leadership was buttressed by the work of organizers, Black women and men, LGBTQ people of color, students, and activists spanning age, ethnicity, race, and income levels.
In commemoration of his legacy and the Civil Rights Movement, we've put together some highlights of the work we're doing to promote racial justice, stop discrimination based on race and ethnicity, and ensure equal opportunities for communities of color.
Reforming California's Racially Biased Money Bail System
Money bail lets the rich buy their freedom while preying on everyone else, especially communities of color. Because people of color are over-policed, arrested, and detained more often than white people, they also face higher bail amounts. The results of even just a few days in jail can be devastating – people can end up losing their jobs, their homes, and their children. Read about the work we're doing to reform our broken bail system here.
ACLU Combats Profiling and Jailing of Immigrant Latino Teens
After the Trump Administration profiled Latino immigrant teenagers as gang members under the guise of a "crackdown", shipped them across the country, and locked them up for months, the ACLU of Northern California filed a class action lawsuit. After the cases were argued in court, 26 kids were sent home by judges who found no evidence to justify their detention.
Racial Disparities in Officer-Involved Shootings in Fresno, California
Our report "Reducing Officer-Involved Shootings in Fresno, California" revealed a disparate impact of police shootings in Fresno's low-income communities of color. Between 2011 and 2016, Black and Latino people accounted for 80 percent of people shot by police in Fresno, while only making up 52 percent of the population. After issuing the report, we called on the California Department of Justice to open a civil pattern and practice investigation of the Fresno Police Department's use of force.
Loleta School District Order to Address Racial Discrimination on Campus
For years, the Loleta Union Elementary School District has racially discriminated against Native students and failed to provide disabled students with appropriate special education services. The ACLU, working with allies in Humboldt County, helped spur an investigation by the Office of Civil Rights which found substantial evidence of ongoing discrimination against Native American and Black students by school employees. The District has been ordered to enter into a binding agreement to meaningfully address racism on campus.
Visalia Students Urge District to Meaningfully Address Racism and Racial Bias
Students of color at Visalia Unified School District have had to endure a long history of racism and bigotry on campus – they're often the target of racial slurs and are disproportionately harmed by discipline rates. After a student wore a Confederate flag sweatshirt to campus, the District responded by proposing a misguided, blanket ban on "hate group" clothing. The ACLU of Northern California and Visalia student activists submitted public comment urging the District to meaningfully address racism and bigotry on campus and stand with students of color, not sweep racism under the rug by shutting down protected speech. The student's efforts were successful: the district tabled its vote and pledged to have further discussions about racial tensions at school.
Campaign to Reform District Attorney's Office
District Attorneys (DAs) are among the most powerful elected officials in local government, and for decades have been the primary drivers of America's devastating and racially biased mass incarceration problem. The ACLU of California launched the Hey, DA campaign to raise awareness about the powerful role district attorneys play in California's 58 counties, to increase accountability and transparency within the offices, and help reform our racist criminal justice system.
Facebook Surveillance
An investigation by the ACLU of Northern California revealed that law enforcement agencies across the state were secretly acquiring social media spying software to monitor and target protesters and activists of color. Partnering with the Center for Media Justice and the Color of Change, the ACLU successfully lobbied Facebook and Instagram to prohibit surveillance companies from using their platforms to target black and brown people.
The ACLU of Northern California is proud to honor Dr. King by renewing our commitment to fight for racial and economic justice throughout California.