In George Floyd's Name, the Fight for Justice Marches On
May 25, 2021
Today, on the one-year anniversary of George Floyd's death, the ACLU of Northern California joins his family, and communities across the nation, in mourning his death and celebrating his life.

We must continue the fight to ensure that Floyd's death has not been in vain. We renew our commitment to overhauling the role of policing in American society—in the memory of Floyd, and in the memory of the incalculable other Black lives lost to police violence.

While former Minneapolis police officer Derek Chauvin was found guilty of murder for kneeling on Floyd's neck for over nine minutes, Chauvin's conviction can't erase the traumatic images of Floyd's final minutes of life. His vicious murder, captured on video and seen by millions upon millions of people, unleashed the biggest social justice protests in the U.S. in decades.
Image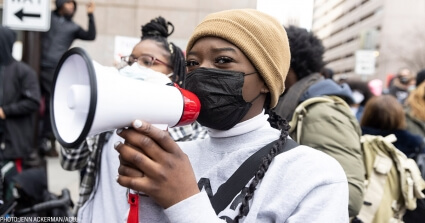 Floyd's fatal encounter with Chauvin on May 25, 2020, followed a vast number of police killings of Black people in the U.S.: Oscar Grant, Michael Brown, Eric Garner, Philando Castile, Breonna Taylor—to name just a handful of lives from an innumerable list of loss.

The depravity of Floyd's murder forced a national reckoning that had not occurred before. The brazen execution of a man, in full view of a crowd of witnesses, whose alleged crime was passing a counterfeit $20 bill hit a nerve, not just here in the United States, but all over the world.

Floyd's murder reshaped the entire conversation about why police play such an outsized role in the lives of Black and Brown people, and what we can do to change that.
Here is a sampling of concrete victories from around California:
In June, after years of advocacy by the Black Organizing Project, the Oakland Unified School Board voted to disband its 60-member campus police force. The George Floyd resolution also calls for reinvesting its $6 million budget into a new safety plan that focuses on supporting students.


 

San Francisco city officials announced the "Dream Keeper Initiative." It calls for

investing $120 million over two years in San Francisco's Black community through programs that will support youth, families, seniors, and members of the Black LGBTQ+ community.


 

The San Francisco Police Department changed its policy so that it no longer responds to non-criminal matters that don't involve a public safety threat. Police officers will be replaced by trained unarmed professionals.


 

Black Lives Matter

activists sued the City of San Francisco for illegally spying on them

and fellow protesters as they marched against police violence and racial injustice. They called on the court to order San Francisco to enforce the city's surveillance technology ordinance, passed in 2019, so that no future activists are subjected to discriminatory, dragnet surveillance for exercising their constitutional rights. The ACLU Foundation of Northern California and the Electronic Frontier Foundation are representing the activists. 
Image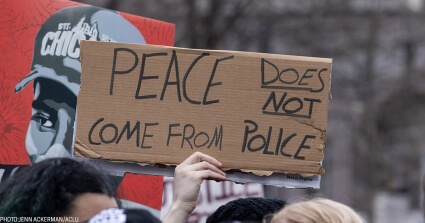 The Los Angeles Board of Education voted to cut $25 million in school police funding. That eliminated 133 sworn and non-sworn officer positions. The board also banned the use of pepper spray on students and directed the cost savings from the police budget cuts to be re-directed to improve Black student achievement.


 

Former San Francisco District Attorney George Gascon was elected DA in Los Angeles. Gascon was part of a wave of progressive attorneys who were swept into power around the country after George Floyd's killing. The race was a referendum on police reform.


 

The California legislature passed AB 3121, creating a task force to study the state's history of slavery and to develop proposals for reparations for African Americans. It's the first task force of its kind in the country.


 

California passed new laws that ban law enforcement from using chokeholds and that require the attorney general's office to investigate any police killing of an unarmed civilian.
Yet even as we celebrate these victories, Black and Brown people continue to be killed during encounters with police, with sickening regularity. The ACLU will continue to work alongside grassroots activists to ensure that, one day, we can remember George Floyd in celebration of the true justice achieved in his name.