Keep ICE Out of Fresno: Advocates Demand an End to Sheriff Mims's Policy
Nov 11, 2015
Page Media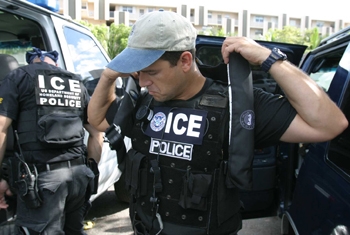 In June, Fresno County Sheriff Margaret Mims announced that she would allow two ICE agents to be stationed inside the Fresno County Jail. The sheriff rolled out the red carpet for ICE—even offering interrogation rooms—and stirred fear in a community she vowed to protect.
Despite growing concerns about the program, the sheriff has provided few details to the public. So, a group of local advocates met with her to learn more about the troubling state of affairs.
Under Sheriff Mims's policy, any person in Fresno County custody can be questioned by ICE and deported. They don't have to be charged or convicted; they could even turn out to be victims or witnesses of a crime. Since her announcement, a number of counties, including Monterey, have gone down the same misguided path by adopting similar policies that target immigrant communities and endanger the public.
If all of this wasn't bad enough, the Sheriff's Office also gave ICE wide-open access to all of its records and databases, including the names and dates of release of people in custody. This unrestricted access makes it easier for ICE to target people for deportation—even those who aren't priorities under the federal Priority Enforcement Program (PEP).
But ICE makes no distinction. By simply scrolling through a database, ICE can identify an individual, question them, and take them into custody.
The Sheriff's Office makes no effort to alert those individuals identified by ICE. People in custody are denied even the time to find an immigration attorney and, therefore, their right to speak to an attorney before speaking to ICE.
ICE doesn't need any assistance from Fresno to carry out its job. ICE has more than enough tools that it's using to rip apart families and communities; we don't need to waste local resources on helping them.
Fresno needs a policy that protects its residents—but giving ICE unlimited access to people in jail and their personal information does exactly the opposite. That's why the ACLU and coalition partners sent Sheriff Mims a letter on Tuesday. There is no need to throw civil rights and public safety out the window; in fact, Sheriff Mims has an easy decision in front of her that can preserve community trust. She can stop the program and stop all involvement with federal immigration enforcement.
There have been too many deportations in Fresno County and not enough emphasis on rebuilding our communities. Fresno should be a leader in real public safety, not fearmongering and wasting of resources. Rather than be known as the county with a high deportation rate, Fresno County should be known as a place that values all community members and one that seeks to ensure a safe environment where everyone can thrive.
Angélica Salceda is a Staff Attorney with the ACLU of Northern California.