Lethal Injection Déjà Vu?
Nov 12, 2015
Page Media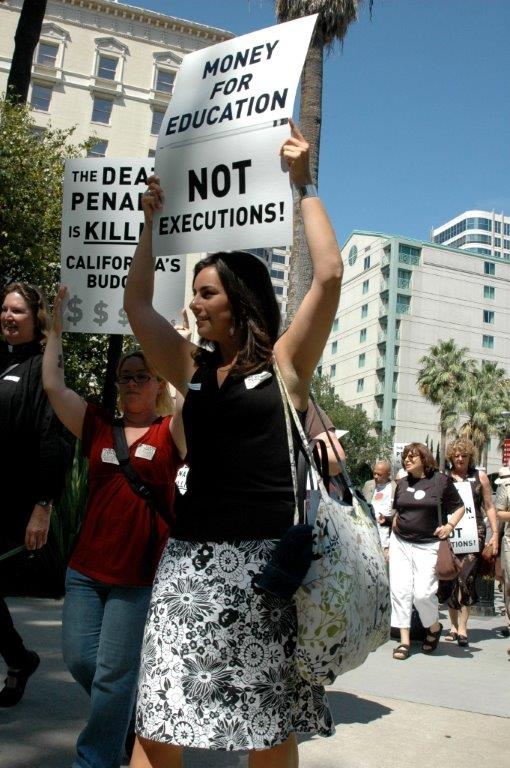 Last Friday, the California Department of Corrections and Rehabilitation (CDCR) made public proposed regulations on a new lethal injection protocol. This triggered the public comment period under California's Administrative Procedures Act (APA), which ensures the public has a right to participate in every step of the regulatory process so that our concerns are addressed in a meaningful way.
The purpose of this process is to ensure that the CDCR engages in transparent decision-making and adequate study when it comes to such important, life and death decisions.
For many of us dedicated anti-death penalty activists, this all might feel like a bit of déjà vu…
Let's go back in time for a moment, to the spring of 2009, when the CDCR made public proposed regulations for a three-drug protocol thus triggering the first APA process. I had just started working at the ACLU of Northern California and remember seeing thousands of people asserting their rights by expressing concerns with the CDCR's proposed three-drug protocol and submitting comments to the agency. The comment period culminated in a public hearing in Sacramento where around 100 people showed up and testified against the troubling proposed lethal injection protocol.
ACLU supporters and thousands of allies connected to key partner organizations, like Death Penalty Focus, California Attorneys for Criminal Justice, Amnesty International, MoveOn.org, and Credo Action mobilized and made their voices heard in the public comment process.
But the CDCR failed to do its job and follow the APA. After years of litigation and due to the Department's failures, we are now back to square one.
But one thing was true then and remains true today: the death penalty is broken beyond repair and tinkering with lethal injection procedures does not address the larger problems like the exorbitant cost of the death penalty, the real risk of executing an innocent person, and whether the death penalty can ever be applied fairly in California.
This sordid history of lethal injection in California along with the CDCR's troubling track record of secrecy and failure is why public scrutiny is especially important this time around. After reviewing the proposed regulations, I already see some disturbing provisions related to the lethal injection drugs the CDCR plans on using, its assessment of the supposed economic impact of the proposed regulations, and the complete failure to includes procedures to address the all-too-likely event of a botched execution.
In an effort to facilitate the public's participation in this important process and to hold the CDCR accountable, we have created a new webpage www.aclunc.org/lethalinjections, to provide people with information, resources to submit comments, and toolkits to expedite community engagement.
The comment period will stay open Jan. 22, 2015 at 5:00 p.m. PT. Take action!
We will be updating you at key points during this time on social media, using the hashtag #BrokenBeyondRepair. So please stay tuned.
Once again, we are committed to meaningful and substantive engagement in this process, but we can't do it without your help.
Ana Zamora is Criminal Justice Policy Director at the ACLU of Northern California.