Speaking of Militarized Police… No Secret Drones in San Jose
Aug 14, 2014
Page Media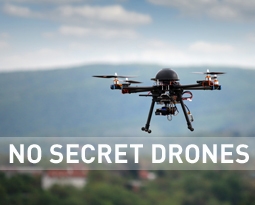 ACLU Joined by Coalition in Demanding City Council Vote Again on Drone
A coalition of advocacy groups, including the American Civil Liberties Union of Northern California and the Electronic Frontier Foundation, sent a letter this week to the San Jose City Council demanding that it have the necessary public debate of whether a drone should ever be used in San Jose well before it starts to consider how it could be used.
When the council in November approved a San Jose Police Department request to purchase a drone, it was part of a proposal to accept nearly $1 million in Department of Homeland Security funding that appeared only as a line item on the consent calendar – there was no public discussion by the council about what the funds would be used for.
"Community members did not have the proper opportunity to voice their concerns about the potential purchase of a drone, and City Council members were not able to vote on the budget request with those concerns in mind," reads the letter, which was also signed by the Asian Law Alliance, the Center for Media Justice and the Coalition for Justice and Accountability. "The City Council should show its commitment to respecting civil liberties and civil rights by bringing the issue back for a robust public debate and new vote."
As the letter makes clear, it wasn't until months later, when the ACLU and some investigative reporters found documents revealing the existence of the drone, that it became public knowledge SJPD planned to deploy it.
After initially claiming the drone would be used only for "hazardous materials investigations," SJPD subsequently released a statement making clear it intends to use the drone in any situation in which it believes public safety is threatened.
"Drones pose significant threats to privacy and free expression because they can operate surreptitiously, enable warrantless dragnet surveillance, and can be easily misused for discriminatory purposes," the letter reads. "Before any community makes the important decision whether to unleash drones into the skies, it needs to engage in an open and informed debate."
The police department last week did acknowledge that it "should have done a better job of communicating the purpose and acquisition" of the drone to the community.
But, as the letter states, "Now is the time to make sure that this now happens in the right way by putting the matter back onto the City Council agenda for a proper debate on the merits and a new vote."
Read the coalition letter to the San Jose City Council.
Will Matthews is the Senior Communications Officer with the ACLU of Northern California.