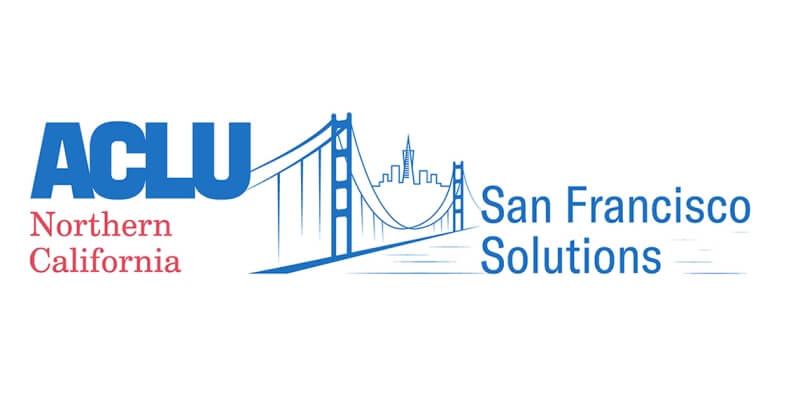 San Francisco Solutions
Since our founding in 1934, San Francisco has been home to the ACLU of Northern California. Over many decades, we have joined lawsuits, campaigns, and movements to press San Francisco to fully embrace equality, freedom and justice. In recent years, our work has included restricting government surveillance, changing the city's police use of force policy, and limiting police pretext stops. 
Today, San Francisco is grappling with a daunting slate of distinct, yet interconnected, challenges that appear regularly in the news and are visible on the streets. As part of our ongoing commitment to San Francisco, ACLU NorCal is launching San Francisco Solutions, a project to focus attention on and advocate for proximate, evidence-based solutions to the city's problems.
Please visit this page for updates and additional resources.
Before we seek solutions, we must first define the problems. San Franciscans frequently identify homelessness, housing affordability, the fentanyl crisis, and community safety as their top concerns. These concerns affect every resident – including our housed and unhoused neighbors, people struggling with addiction, and everyone who lives or works in San Francisco. Each of these issues stands on its own – with specific causes, effects, and solutions – and they also relate to and compound each other.
Contrary to anecdotes or misconceptions, housing, shelter, and drug treatment are not readily available to people who seek them. 
While the magnitude of some of these problems has grown, they are not new. Despite its progressive reputation, San Francisco is a deeply segregated city where systemic racial and economic inequality have persisted for decades, in part due to elected officials' policy choices. This inequality is apparent in the glaring racial disparity of Black residents in San Francisco who are unhoused, dying from fentanyl overdoses, stopped by police or incarcerated. This inequality is apparent in the ways that people with disabilities and members of the LGBTQ community experience higher rates of poverty and homelessness. And it is apparent in widespread income inequality, which the housing affordability crisis has exacerbated, for both the housed and unhoused. 
In the face of these problems, ACLU NorCal will promote solutions that meet two tests:
Solutions that protect and advance constitutional rights, rather than ones that violate those rights, under both the United States and California constitutions, as well as state and local policies. Key elements include due process, the right to privacy, equal protection under the law, and freedom from cruel and unusual punishment.
Solutions that provide economic opportunity and advance racial equality, rather than ones that further entrench inequity in people's lives. Key elements include essential services – especially affordable housing and substance use treatment. 
While we advocate for solutions that meet those tests, we will also vigorously state our disagreements with policies that violate rights or intensify inequality. In particular, we strongly object to approaches that emphasize surveillance, arrests and incarceration. Almost every day, in the news or on social media, pundits seize upon incidents or conditions in San Francisco to call for "more police". This knee-jerk reaction stakes a claim on limited public resources that could be used to fund other responders and alternative solutions, often with better results for community safety.
Building on our many years of work in San Francisco, ACLU NorCal is redoubling our efforts to advocate for a realistic, viable set of San Francisco Solutions. To this end, we will:
Reach out to community and civic groups to listen, share, and engage in dialogue. Please contact us if you want to connect.
Dive deeper to understand and advocate for solutions in San Francisco across this range of issues. We will consult with residents and communities, and experts in San Francisco and elsewhere, to better understand the problems and viable solutions.
Advocate to expand access to drug treatment beds and services.  We also support "CART" – a proposal to provide consistent, service-oriented outreach to unhoused residents, people suffering from addiction, and individuals in mental health crisis.
Work to resolve the lawsuit Coalition on Homelessness v City and County of San Francisco. We urge the city to settle this case by fulfilling its promise to expand access to appropriate temporary shelter and affordable housing, and by treating unhoused residents fairly, consistent with San Francisco's policies and the U.S. Constitution.