Article Media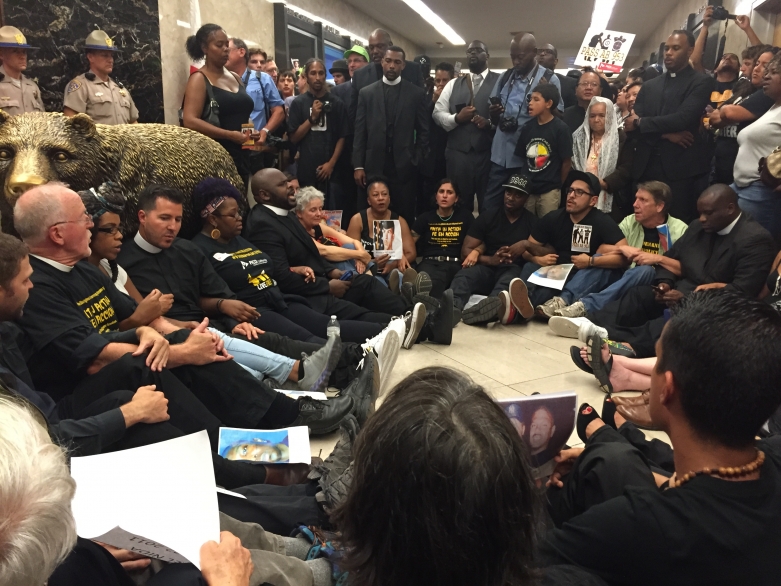 Nearly 800 faith leaders, victims of police misconduct, family members of people killed by law enforcement, and other community members staged a sit-in outside of Governor Brown's office on Wednesday following a march and rally for police reform. Chants echoed through the halls as participants called on Governor Brown to affirm his support for a bill to combat racial and identity profiling by law enforcement in California.
Today's actions echo growing demands for systemic police reform as the country reels from the recent, high-profile deaths of several unarmed people of color over the past year. AB 953: The Racial and Identity Profiling Act of 2015 was introduced by Assemblymember Shirley Weber (D-San Diego) to combat racial and identity profiling by law enforcement.
"Recent incidents have forced us to confront some ugly truths about the persistence of racial bias in law enforcement. One of our best defenses is information about who is stopped by police and why. Currently, information on these incidents isn't provided publicly in a comprehensive way. The goal of AB 953 is to rectify this so we can make policies with the best information possible," Weber, said.
According to an independent analysis, unarmed black men are seven times more likely than unarmed white men to die by police gunfire. Yet while the deaths of unarmed men of color have dominated the conversation on race and policing nationwide, organizers for Wednesday's events also stressed the impacts of biased policing on women, members of the LGBTQ community, immigrants, and religious minorities.
"For far too long Black, Indigenous, Latino, and immigrant communities have been unfairly profiled, harassed, and killed by law enforcement," said Rev. Ben McBride, Director of Regional Clergy Development for PICO California. "Law enforcement has gone unchecked and the state legislature has failed at protecting those most vulnerable to police misconduct. The passage of AB 953 is just one way state legislators can begin to root out the evil ingrained in the culture of mass criminalization that exists in our state. Black lives matter. People of color matter. We must demand that our elected officials and law enforcement officers do what they are paid to do and that is protect us."
With 129 people killed by law enforcement this year alone, California holds the ominous record for the highest number of deaths in the country. Alarmingly, the Los Angeles Police Department has killed more people than any other agency in the country. However, the state still does not collect, analyze, or make available basic information about who the police, stop, search or even shoot.
Among those at the rally was Ruben Bermudez, whose son, Eduardo, was shot and killed by LA County Sheriff deputies in East Los Angeles on November 16, 2014. Ruben has been a parent leader with the Youth Justice Coalition ever since, working with other families who have survived the killing of their loved ones by law enforcement to push for recognition, respect, dignity and human rights for the victims of law enforcement profiling, suppression and use of force.
He traveled to Sacramento to speak at the rally and in front of the Governor's Office about Eduardo. He choked back tears as he spoke. "Eduardo was a good boy. He didn't deserve to die like an animal in the street. His sister witnessed him getting shot. His aunt yelled at the sheriffs - 'Please don't shoot; he won't hurt you.' And they shot him down anyway. We will never be the same. I can't sleep any longer. I can't stop crying. We have to fight back. We have to push the legislature and governor to pass AB 953 for the data. Eduardo and Ricardo were standing in front of their own apartment buildings. There was no reason to stop them, let alone to drive up fast with several squad cars with guns out. We have to demand that law enforcement tells us WHO they are stopping and WHY."
After staging three four and half minute die-ins during a two hour rally on the South Lawn, protesters entered the capitol to urge Governor Brown to sign AB 953, citing racial profiling as one of the reasons why people of color are being killed by police at racially disproportionate rates.
If approved, AB 953 would:
Update California's definition of racial and identity profiling to be in line with federal recommendations by including other demographic characteristics, such as gender and sexual orientation.
Require that California law enforcement agencies uniformly collect and report data on stops, frisks, and other interactions with the communities they serve.
Establish an advisory board to analyze stop data and develop recommendations to address problems with disparate policing where they exist.
AB 953 moved out of the Senate Appropriations Committee and is now headed to the Senate floor for a full vote.
###
The Communities United Coalition is comprised of the six AB 953 cosponsor organizations: PICO California, ACLU of California, Youth Justice Coalition, Asian Americans Advancing Justice, Reform California, and Dignity and Power Now, as well as other organizations that also support the bill.