Article Media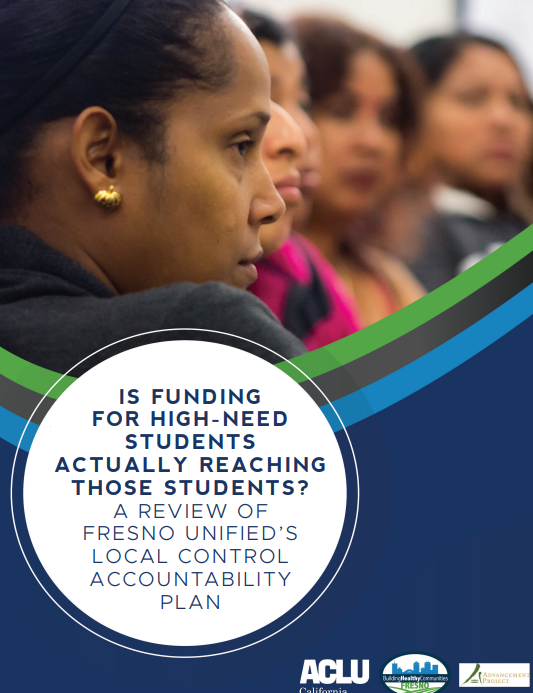 FRESNO - The ACLU Foundations of California, in partnership with Fresno Building Healthy Communities, today released a report detailing the Fresno Unified School District's attempt to improperly use state funding designated for high need students. It also provides a review of the responsibilities of California school districts when creating their Local Control and Accountability Plan (LCAP).
The report, titled "Is Funding for High-Need Students Actually Reaching Those Students? A Review of Fresno Unified's Local Control Accountability Plan," highlights the California Department of Education's May 2017 decision directing the Fresno district to fix its LCAP after the ACLU of Northern California exposed its plan to use millions of dollars earmarked for high-need students on police, surveillance, janitorial staffing, and building upgrades.
"We hope this will send a message to school districts throughout our state that the money must be used for the students it was intended for, not to fill budget gaps," said ACLU Foundation of Northern California Staff Attorney Abre' Conner.
In 2014, California passed the Local Control Funding Formula (LCFF), a law that fundamentally changed the way the state funds its public schools. The legislature wanted to promote equity by directing more resources to high-need students. Those include low-income, foster youth, and English language learners. The LCAP is the district plan that outlines how the money will be spent.
"While the district thinks it is doing its best, more still needs to be done to ensure parents and students are meaningfully engaged in the LCAP process," said Ernesto Saavedra, an organizer with East Bay Asian Youth Center. "The district should ensure there is adequate funding for parent engagement and should present the LCAP to the community in an easy-to-understand fashion so they can provide additional input on future spending."
The report gives parents, students, and the community tips on how to review district LCAPs, engage in the process, and offer input to ensure the money is properly spent. It also gives recommendations for school districts on how to strengthen engagement with parents, students and community members.
"For the last few years, parents like myself go to these LCAP meetings to try and understand how this money is going to make an impact to help my child, but each time there is confusion," said Naddha Lor, a mother and resident partner of Fresno Building Healthy Communities. "The district needs to do a better job at making sure this information is available for parents and students in multiple languages."