Article Media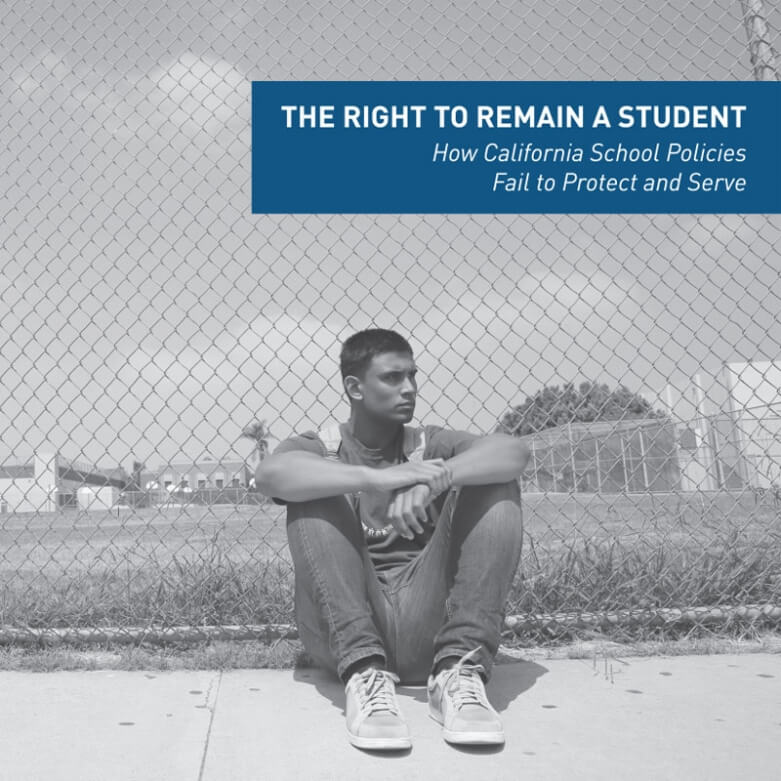 Los Angeles – Vast policy disparities among California school districts on how and when to summon law enforcement officers to campuses expose students to improper arrests, detentions, and possible violations of their civil rights, according to a new report from the ACLU of California.
The report, The Right to Remain a Student: How California School Policies Fail to Protect and Serve, finds that school officials are increasingly calling on law enforcement to deal with student misbehavior such as disruption, truancy, bullying, vandalism, and other violations of campus rules, often leading to arrests and feeding students into the growing school-to-prison pipeline.
Among some of the civil rights concerns addressed in the report:
​Students are often taken into custody without warrants and without an adult present;
Police often fail to inform students of their rights, and students are questioned by police and arrested without prior notification of parents, guardians, or even school officials;
Students of color are more likely than their white counterparts to be arrested for minor violations of rules or policies;
Arrests and incarceration increase students' odds of dropping out of school;
Students with disabilities are three times as likely as students without disabilities to be arrested;
The arrest rate in schools where more than 80% of students are low-income is seven times the arrest rate of schools where fewer than 20% of students are low-income.
"We also find that many districts have failed to adopt firm policies on interactions between students and law enforcement, which encourages school officials to rely on police, rather than principals, counselors or other administrators, to enforce discipline," said Sylvia Torres-Guillén, director of education equity for the ACLU of California. "In many cases districts have adopted policies requiring staff to call the police to address even minor disruptions or violations of school rules."

The ACLU of California firmly believes that school districts and law enforcement agencies should never permanently assign police officers to school campuses. These officers are not sufficiently trained to deal with the needs of young people overall and disabled students in particular. In one especially egregious case, a district police officer in Stockton zip-tied the hands and feet of a 5-year-old with behavioral problems and took him to a mental health facility. In another case a police officer called to a San Mateo school pepper-sprayed a 7-year-old with disabilities after he refused to climb down from the top of a bookshelf in his special education classroom.

The report recommends a number of reforms:
​School districts must adopt policies that would require calls to law enforcement only if there is a real and immediate threat to student, staff, or public safety;
If a student is suspected of a crime on or off campus, officers should have an arrest warrant and allow students access to adult supervision before taking them into custody;
Arrests should be made as unobtrusively and privately as possible;
To meaningfully address the deeply rooted challenges students face, school districts should reinvest money spent on school resource officers, security guards, and police officers into counselors and training on restorative strategies and positive behavior intervention and support.
"We are committed to safe school environments where students and staff build trust and all students feel included and supported, not anxious that police officers may handcuff and arrest them or their classmates for common misbehavior and behavioral problems caused by disability," said Linnea Nelson, staff attorney with the ACLU of California.

The Right to Remain a Student is being released in conjunction with Dignity in Schools' National Week of Action, a coordinated effort by more than 100 organizations to end the school-to-prison pipeline.

Read the report »

The ACLU of California is a collaboration of the three ACLU affiliates in the state: ACLU of Northern California, ACLU of Southern California, and the ACLU of San Diego & Imperial Counties.