Article Media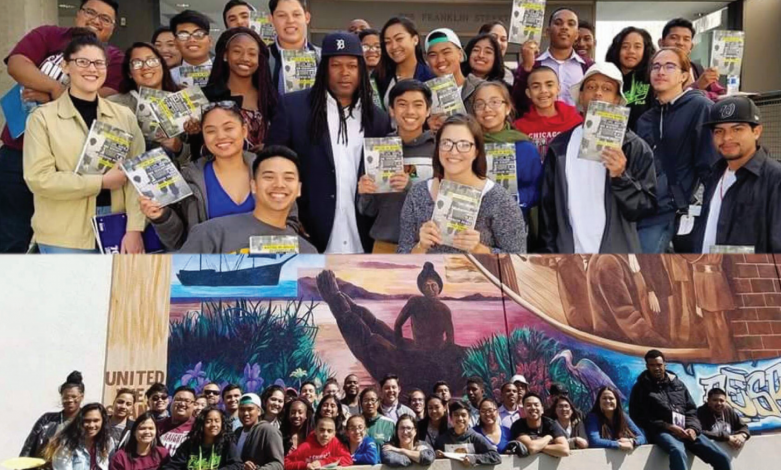 Today, the ACLU of Northern California released new and troubling arrest data from Stockton Unified School District (SUSD), obtained through an ACLU Public Records Act lawsuit brought in 2016.
Analysis of the data shows a culture of over-policing by the SUSD Police Department that negatively affects all SUSD students. SUSD reported 1,936 student arrests between July 2012 and November 2016. 53% of student arrests were for low-level misbehavior – such as truancy, curfew violations, marijuana possession, and disturbing the peace.
The data also shows that policing in SUSD has a particularly harsh impact on Black and Latinx students and students with disabilities. Black SUSD students are more than twice as likely as white SUSD students to be arrested by school police. Although Latinx students in SUSD do not appear to be arrested at rates disproportionate to their rate of enrollment, Latinx students make up nearly two-thirds of the student body and therefore police arrests affect many Latinx students – the District reported 964 arrests of Latinx students in their records. The records also show a total of 318 arrests of students with disabilities. Black students with disabilities are more than twice as likely as white students with disabilities to be arrested by SUSD police.
"When the effects of implicit bias and stereotyping are magnified by the decision to station police in schools, students suffer," said Linnea Nelson, Staff Attorney with the ACLU of Northern California. "We need to be empowering our educators to treat school discipline as an opportunity to teach students, rather than criminalize them."
The Stockton Education Equity Coalition has released a 'Report Card' summarizing the ACLU analysis and providing recommendations to the District. Students, parents, and advocates will gather at a community meeting tonight in Stockton to discuss the Report Card and the importance of using LCFF funds to support students by investing in effective interventions such as restorative justice programs and counselors. The District's projected budget for the 2017-2018 school year, issued in 2016, earmarks $3,022,530 of state funds for school police. The California Department of Education directs school districts to use these particular state funds to increase and improve services for high-need students like English language learners and foster youth.
"A budget is a statement of values and we believe the school district budget should prioritize investment in restorative justice, alternatives to policing, and increasing student literacy," said Sammy Nunez, Executive Director of Fathers & Families of San Joaquin – a partner organization in the Stockton Education Equity Coalition.
Research shows that this new data out of Stockton mirrors a statewide and national crisis. ACLU analysis of data from the U.S. Department of Education reveals that across California, police interactions disproportionately affect students of color, students with disabilities, and low income students. A 2016 ACLU report noted that this corroborates a national trend noted by many social scientists, where school staff and police officers tend to punish Black children and adults while giving white children and adults the benefit of the doubt for the same behaviors. Students' rights are also at risk in schools staffed by police. Only 1% of California schools require that another adult be present while police question students, or that students be advised of their constitutional right to remain silent. In the 2013-14 school year, 1.6 million students in the U.S. attended a high school with a full-time assigned police officer, but no counselor.
"The practice of permanently assigning police officers to school campuses does not make kids safer, nor does it help them grow and thrive," said Nelson. "The vast majority of youthful misbehavior can and should be addressed by counselors and school officials who don't look at discipline through the lens of criminality."
The Stockton Education Equity Coalition's Report Card is here: https://www.aclunc.org/sites/default/files/Report_Card_SEEC.pdf
The analysis of the Public Records Act data is here: https://www.aclunc.org/sites/default/files/Analysis_June-2017-Stockton-USD-Data-Report.pdf
The raw Public Records Act data is here: https://www.aclunc.org/sites/default/files/Raw_SUSD_Data_12132016.pdf