"My Voice Matters." When Their Principal Tried to Remove #BlackLivesMatter from the Yearbook, These Teens Spoke Up.
Mar 24, 2017
Page Media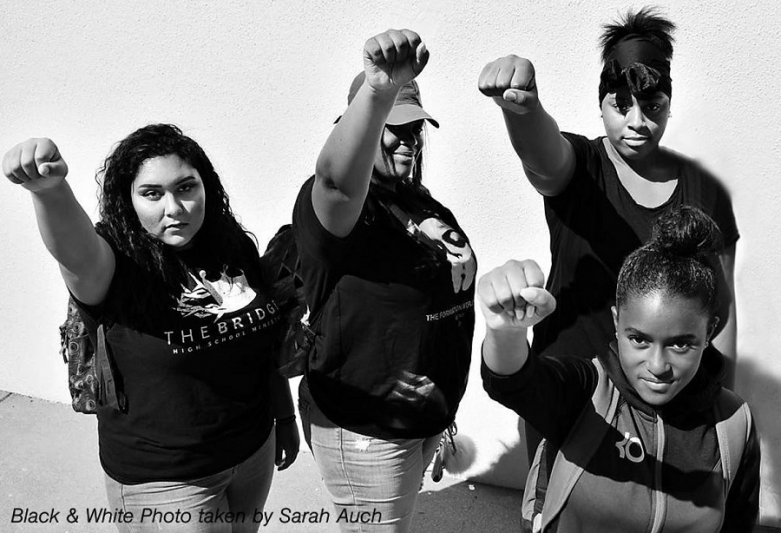 Two fearless high schoolers got the last word this week when they forced their school to drop an illegal and flagrant attempt at censorship.
Vanessa Mewborn and Ariana Coleman, both on the yearbook staff at Buckingham Charter Magnet School in Vacaville, California, were tasked earlier this year with creating an article about the Black Lives Matter movement for the yearbook.
Over several months, they interviewed their classmates and faculty, polled the school regarding their thoughts on Black Lives Matter, and compiled their opinions into a compelling article. They titled it "Celebrating being American: Clarity on Black Lives Matter," and included a question that read, "How do you feel about the Black Lives Matter movement?" The final draft featured a picture of students holding up fists raised as a symbol of solidarity and Black unity.
When Vanessa and Ariana submitted their article for review, their school returned a version that was unrecognizable.
Every reference to Black Lives Matter had been removed. Telling the students the original article was too controversial, their principal had hastily censored and neutralized the title to read, "We are Buckingham," and the interview question to read, "How do you feel about the current world climate that has caused cultural divisions?" He had removed the photo of the girls with their fists raised. All because the principal feared potentially difficult follow-up conversation in the school.
Vanessa and Ariana knew their school was in the wrong, so they came to the ACLU.
In our demand letter to the school district, we explained that it is actually illegal for a school to remove Black Lives Matter references from school publications just because the school is afraid of robust conversation. Students have a right to free speech and expression at school. This includes political speech, cultural expression, and speech that a school district may preemptively feel is controversial. Additionally, the California Education Code has made clear that student editors have the right to control their publications.
When the school officially announced this week that they would be allowing the yearbook spread to be published exactly as originally intended, the girls celebrated. Vanessa told us how the victory impacted her:
I'm very happy we won, and I'm overjoyed that the law was on our side. This whole situation really brought us together.
It's sad that discussion regarding Blackness is considered controversial. All Black Lives Matter, including the lives of Black students and faculty who discussed their experiences in Buckingham's yearbook. Educators should not be in the business of dismissing or shaming Black people for wanting to have conversations about Black culture and Black lives.
We can't put it better than Ariana did when she reflected on this moment:
This victory is more than the page itself. It's a reflection of who I am and who our ancestors have fought for us to be, to never give up, and to fight for what is right. There is nothing wrong with being proud of who I am and where I come from so yes, Black Lives Matter. All Lives Matter. My voice matters.
Yes. For years, Black people have contributed so much to this country, but are often asked to hide in the background or not celebrate or discuss Black culture. To be sure, while Black History Month exists and demonstrates some awareness that Black life is integral to this country, every day encounters with the police, environmental racism, educational and employment barriers, and other discriminatory practices confirm that there is still a long way to go. Black Lives Matter centers on Black people and Black experiences. Our society won't be able to fix systemic racism against Black people by ignoring Black voices.
And given the apparent resistance to students' right to say "Black Lives Matter", now is a critical time for students to say it loud that they are Black and proud.
Abre' Conner is a Staff Attorney with the ACLU of Northern California.
KNOW YOUR RIGHTS!
All students have free speech rights at school. Learn more about your right to speak your mind, and other rights for California students, at www.MySchoolMyRights.com.