A New Bill Restores California's Power to Fight Secret Surveillance
May 03, 2018
Page Media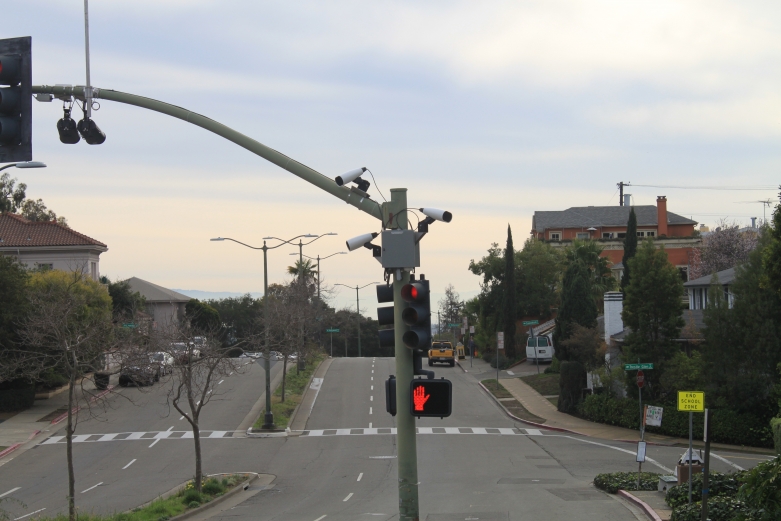 Law enforcement agencies are deploying secret and invasive surveillance technologies to collect sensitive location and biometric data, target local activists, and feed ICE's deportation machine. Technologies like drones, social media surveillance, and license plate readers have invaded people's private lives and are being exploited by the federal government to tear California families apart.
This cannot continue.
Public safety in the digital era must include transparency and accountability when law enforcement seeks to use technology to monitor, target, and detain us. That's why today the ACLU of California and a diverse coalition of civil rights and civil liberties groups are announcing support of SB 1186, a bill that helps restores power at the local level and makes sure local voices are heard when surveillance proposals are on the table.
The stakes are extremely high – the use of surveillance technology harms all Californians and disparately harms people of color, immigrants, and political activists. This is a persistent and alarming trend. The Oakland Police Department concentrated their use of license plate readers in low income and minority neighborhoods. In dozens of California communities, law enforcement deployed social media surveillance products designed to monitor Black Lives Matter, labeling protesters as "threats to public safety." San Francisco police officers misused a license plate reader, leading to the wrongful apprehension of an African-American woman at gunpoint. Earlier this year, news broke that ICE had gained access to a nationwide database of information about the locations of drivers that it can exploit for its deportation machine. These effects are particularly felt in neighborhoods who rely on sheriffs for their law enforcement, such as in Compton, where the LA Sheriff conducted aerial surveillance without telling residents.
But Californians have had enough.
Across the state, residents are fighting to take back ownership of their neighborhoods by saying no to an intrusive police presence and the secretive surveillance that enables it. And they're winning. Earlier this year, Alameda, Culver City, and San Pablo rejected license plate reader proposals after hearing about the ICE data deal. Communities are enacting ordinances that require transparency, oversight, and accountability for all surveillance technologies. In 2016, Santa Clara County, California passed a groundbreaking ordinance that has been used to scrutinize multiple surveillance technologies in the past year. Last month, Davis and Berkeley passed their own surveillance reform ordinances. And this week, Oakland adopted the nation's strongest surveillance technology ordinance.
SB 1186 helps enhance public safety by safeguarding local power and ensuring transparency, accountability, and proper oversight of law enforcement's acquisition and use of surveillance technology.
SB 1186 covers the broad array of surveillance technologies used by police, including drones, social media surveillance software, and automated license plate readers. The bill also anticipates – and covers – AI-powered predictive policing systems on the rise today.
It's time to enhance public safety by restoring local power over law enforcement surveillance decisions. Without oversight, the sensitive information collected by local governments about our private lives feeds databases that are ripe for abuse by the federal government. This is not a hypothetical threat – earlier this year, ICE announced it had obtained access to a nationwide database of location information collected using license plate readers – potentially sweeping in the 100+ California communities that use this technology. Many residents may not be aware their localities also share their information with fusion centers, federal-state intelligence warehouses that collect and disseminate surveillance data from all levels of government.
Statewide legislation can build on the nationwide Community Control Over Police Surveillance (CCOPS) movement, a reform effort spearheaded by 17 organizations, including the ACLU, that puts local residents and elected officials in charge of decisions about surveillance technology.
If passed in its current form, SB 1186 would help protect Californians from intrusive, discriminatory, and unaccountable deployment of law enforcement surveillance technology.
This is a very important step forward.
Now is the time to start making your voice heard: urge California lawmakers to support SB 1186.
Matt Cagle is a Technology and Civil Liberties Attorney at the ACLU of Northern California.
SB 1186 is supported by a broad coalition of organizations, including ACLU of California, American Friends Service Committee, Asian Law Alliance, Black Lives Matter Sacramento, California Immigrant Policy Center, Centro Legal de la Raza, Clergy and Laity United for Economic Justice – Ventura County, Coalition for Human Immigrant Rights, Coalition for Justice and Accountability, Color of Change, Council on American-Islamic Relations – California, Courage Campaign, Defending Rights & Dissent, Electronic Frontier Foundation, Ella Baker Center for Human Rights, Fair Chance Project, Fools Mission, Freedom of the Press Foundation, Greenlining Institute, Indivisible California, Media Alliance, Oakland Privacy, OCCORD – Orange County Communities Organized for Responsible Development, Our Family Coalition, Presente Action, Peninsula Peace and Justice Center, Restore the 4th SF-Bay Area, San Francisco Peninsula People Power, San Jose Peace & Justice Center, Tenth Amendment Center, and The Utility Reform Network.