Clovis Learns the Hard Way: Hiding Discrimination in a Dress Code Won't Fly
Apr 08, 2016
Page Media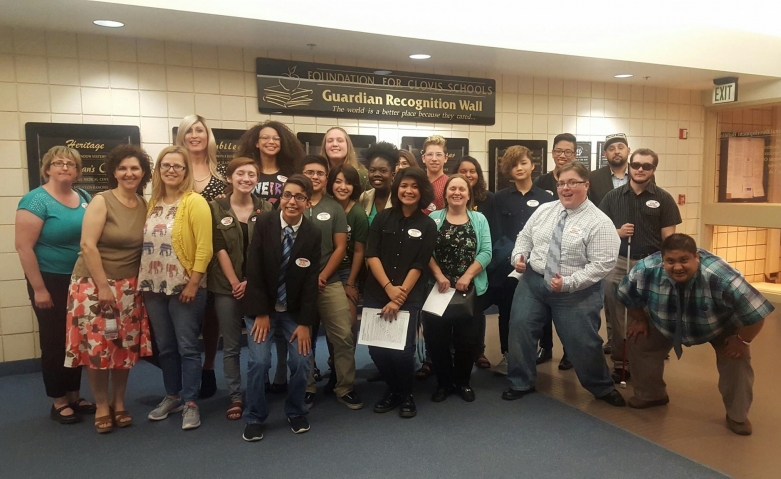 The Clovis Unified School District has a problem. School administrators in this small town in California's Central Valley can't seem to stop punishing students for being themselves. But this week, the school board took a brave leap into the 21st century and amended the dress code – bringing it into compliance with California law for the first time in recent memory.
You can probably sense my sarcasm. This change has been a long time coming. But honestly, Clovis students should not have had to fight this hard for rights that are already protected under state law and the constitution.
Until this Wednesday night, the Clovis USD dress code banned long hair, earrings, and dresses for male students, "exotic clothing and makeup," and hairstyles that "cause undue attention." Months of organizing, with Gay-Straight Alliance Network student leaders at the forefront, included a group of high school boys who recently wore dresses to school to protest the dress code's illegal enforcement of gender stereotypes and a student-led petition signed by more than 3,500 people. The students in Clovis know what some local educators apparently do not – kids have a right to be their authentic selves at school.
A history of discrimination in Clovis
For decades, the ACLU has seen the District use their biased and illegal dress code to discriminate against students based on gender, gender expression, race, culture, and religion.
Last year, the District tried to ban Christian Titman, a Native American student, from wearing a religiously and culturally important ceremonial eagle feather at graduation, saying that his "accessory" was not "acceptable." After we joined with the California Indian Legal Services and the Native American Rights Fund to take legal action, the District backed down, but didn't change their discriminatory dress code.
A few months later, Clovis was at it again – this time enforcing harmful gender and cultural stereotypes against a biracial Black student named William Pleasant. When William tried to register for classes at the beginning of his senior year, the District wouldn't let him. They said his hair was too long to be acceptable for a male student. When William applied for a cultural exemption to the dress code, the District refused, saying he could not obtain a waiver to express his Black culture.
I've been monitoring the school environment in Clovis since last summer, when the District started making moves to revise their dress code after serious community pressure. While working with students and parents in Clovis, I've heard infuriating stories of cultural and religious discrimination. For instance, a Muslim student contacted us in May 2014 when the district tried to punish him for wearing a beard to school as an expression of his religion. Again, the District tried to exclude him from graduation by citing the dress code. The District should have used all this time to review ways to be sensitive to their student population. But the pattern unveiled deeper-rooted issues.
School shouldn't be about exclusion and forcing people into boxes
After the District defied reason and law in January by voting to keep its discriminatory policy in place, I realized that Clovis was digging its heels in because the dress code fight was about more than controlling how students dress. It was about reinforcing a message that only certain people fit into the Clovis community. To be clear, those students are not students of color, LGBTQ youth, or students who have sought religious or cultural exemptions within the District. These students already face an uphill battle in even gaining acceptance in the classroom.
One thing we hear a lot from school districts in these situations – and we certainly heard it from Clovis – is that restrictive dress codes are meant to prepare students for their future in the workplace.
But let's examine that. Should schools be forcing students to concede to gender stereotypes and cultural assimilation in order to get an education? Absolutely not.
And should workplaces be requiring people to leave their gender and cultural expression at the door in order to appear "professional?" They shouldn't, because it's hurtful and it's illegal. California employment laws make it very clear that employees are protected against discrimination based on gender identity and expression, sexual orientation, race, culture, and religion.
Seriously, educators shouldn't be apologists for employment discrimination. We're past the era where that was cool. Just this Monday, a Sikh American military officer defended his right to wear a turban and beard during active duty in the U.S. Army. And just this past week, Meagan Taylor, a black trans woman who was profiled as a sex worker in an Iowa hotel and arrested solely due to her identity, spoke about discrimination against trans people on the Daily Show. Transphobic discrimination results in disproportionately high rates of underemployment and poverty for trans people.

What are we telling our children when we tell them that to be acceptable and successful in this world, they have to hide their authentic selves? It's unfair and unhealthy to expect children to self-police their identities. No student should feel they're not good enough because they don't fit the mold.
A groundbreaking victory we'll be keeping an eye on…
After months of meetings in which Clovis USD refused to change their dress code, we finally have a victory. This is a huge step for Clovis. The community has succeeded in pushing the District to adopt a dress code that doesn't plainly violate the rights of trans and gender non-conforming students.
Clovis has removed the gendered portions of the dress code. They removed the word "exotic," a term that could have easily targeted students of color, but replaced it with "distracting." They also added an additional appeals process for students who need to challenge any future discriminatory dress code decisions.
We'll be watching to make sure the appeals process is actually useful in process and that the District clarifies what it considers "distracting," because the District still has room to exclude students. It does raise some privacy concerns, which I think are best expressed by Sidhartha Sarangi, a local Hindu Priest in Clovis: "Students should not have to provide private information just to receive a religious exemption. School districts must be culturally and religiously sensitive for all students."
It's an incredible privilege to work with the dedicated and diverse coalition of students, parents, religious leaders, LGBTQ activists and GSA student leaders, and concerned community members who have tirelessly worked to protect the rights of all students in Clovis.
Because at the end of the day, schools should be about preparing students for success. But success isn't only about academic learning, and it's definitely not about forcing people into boxes. Preparing students for success is preparing them for leadership in a diverse and just society.
Abre' Conner is a Staff Attorney with the ACLU of Northern California.