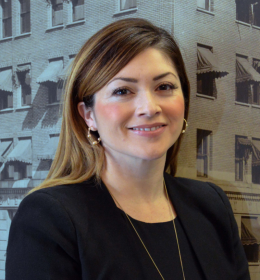 Democracy and Civic Engagement Director
Angélica Salceda is a staff attorney at the ACLU of Northern California, where she focuses on economic justice, immigrants' rights, and civil rights and civil liberties enforcement in the Central Valley.
Her current cases include a suit against Immigration and Customs Enforcement (ICE) for refusing to release documents that would shed light on the agency's treatment of asylum seekers. She is also leading an administrative Federal Torts Claim Act on behalf of two Guatemalan teenage sisters who were assaulted by a U.S. Customs and Border Protection officer. She was also part of the litigation team in Lyon v. I.C.E., a class action on behalf of immigrant detainees in northern California to address the lack of reasonable telephone access in immigration detention facilities, a condition of confinement that prevents immigrants from fully and fairly litigating their deportation cases. 
Prior to joining the ACLU as a staff attorney, Angélica was an Equal Justice Works Fellow sponsored by Fenwick & West. As an Equal Justice Works Fellow, Angélica led a project to identify and remove educational barriers impacting pregnant and parenting students in California's Central Valley. She authored a report titled, "Breaking Down Educational Barriers for California's Pregnant and Parenting Students." As a result of her report, the California Legislature passed and approved Assembly Bill 302 to ensure that lactating students in K-12 schools have access to a private, secure place to breastfeed or express milk during school hours.
Angélica received her undergraduate degree in Political Science and History with a minor in Anthropology from University of California, Los Angeles. She was a 2007-2008 Jesse M. Unruh Assembly Fellow and was subsequently hired as a legislative aid in the California Assembly. There, she worked on a number of policy issues, including environmental justice and immigrants' rights.
Angélica is a graduate of UC Berkeley School of Law, where she participated in the International Human Rights Clinic on a project focused on the human right to water in California. As a student with the clinic, she co-authored a report titled, "The Human Right to Water Bill in California: An Implementation Framework for State Agencies." While in law school, Angélica served as the UC Berkeley School of Law student body president, External Vice President of the UC Berkeley Graduate Assembly, and President of the University of California Student Association.