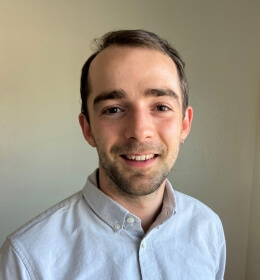 Dylan Verner-Crist is a legal-policy investigator at the ACLU of Northern California, where he provides investigative assistance to litigation and policy practice areas.
Prior to joining the ACLU, Dylan was a paralegal at Rosen Bien Galvan & Grunfeld LLP, a private law firm in San Francisco that litigates class-action lawsuits on behalf of incarcerated people in California. In this capacity, Dylan advocated for people with disabilities and serious mental illness in county jails and state prisons across California.  Dylan's work focused particularly on ending correctional staff abuse and excessive force against people with serious mental illness in California state prisons. 
Dylan is a graduate of Haverford College, where he received with a B.A. in Philosophy with honors and was awarded the Charles Schwartz Memorial Award for his senior thesis.  At Haverford College, Dylan was also a member of the cross country and track & field teams and was the 2016 Centennial Conference champion in the 10,000-meter run.
In his spare time, Dylan volunteers with No More Tears, a collaboration between men incarcerated at San Quentin State Prison and their community.  Dylan is also a member of the Ella Baker Center for Human Rights in Oakland.