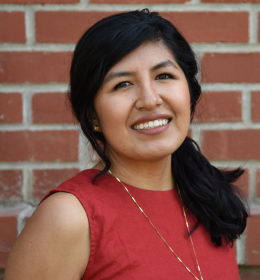 Immigrants' Rights Program Director
Maria Romani joins us as a Staff Attorney for the Immigrants' Rights Program at ACLU of Northern California. Maria focuses on statewide policies impacting immigrants' rights.
Prior to joining the ACLU, Maria was a staff attorney at the Brooklyn Defender Services through the New York Immigrant Family Unity Project, where she represented detained noncitizens in their removal proceedings. During her time as a detention attorney, she conducted bond and merit hearings on behalf of her clients, often working alongside community-based organizations.
Maria also worked at Make the Road New York, where she helped build the immigration unit, advocated around immigration services fraud, and represented noncitizens in affirmative and removal proceedings. While at Make the Road, she worked with community organizers to provide legal support, develop materials and workshops for community members, and help strategize around local campaigns. Maria worked with students from the NYU Immigrant Rights Clinic to author a guide directed at the New York Police Department on U Nonimmigrant Status certification process after noting a trend in its practice of limiting certification grants. In 2011, she helped launch Make the Road's educational campaign around community raids.
Maria earned her J.D. from the New York University School of Law. While in law school, she participated in NYU's Immigrant Rights Clinic, representing an unaccompanied minor and working alongside Domestic Workers United to enforce a newly passed workers' rights law. Maria was a student scholar through the Latinx Rights Scholars Program and the co-chair of the Women of Color Collective during her time at NYU. She was also an Ella Baker scholar during her internship at the Center for Constitutional Rights, where she worked on researching and briefing FOIA litigation surrounding secure communities. Maria graduated magna cum laude from the University of California, Los Angeles, where she earned her undergraduate degree in history and political science.
*Not admitted in California; admitted to practice law in New York.