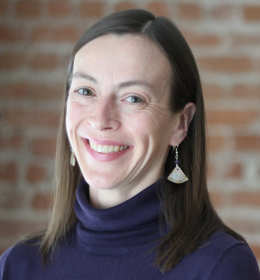 Senior Staff Attorney, Racial & Economic Justice Program
Linnea Nelson is a Senior Staff Attorney for the Racial & Economic Justice Program at the ACLU of Northern California, where she advocates for the constitutional rights of all children to equal educational opportunity.
Linnea has litigated multiple challenges to discriminatory practices in California public schools, including the "deliberate indifference" of school district administrators to a hostile educational environment based on pervasive racial and sexual harassment of students. She also litigated a Central Valley school district's implementation of an English learner program that denied basic reading instruction to young students, and the discriminatory censorship of a student for wearing a t-shirt to school stating "Nobody knows I'm a lesbian."
More recently, Linnea has worked to limit the role of police in schools in an effort to stop the increasing criminalization of normal student misbehavior, particularly of students of color, LGBTQ students, and other vulnerable student groups.  She filed, and successfully settled, a lawsuit under the Public Records Act to require the Stockton Unified School District to release records of the district police department's referrals of students to law enforcement , to shine a spotlight, on how police practices harm students by shunting them into the criminal justice system for minor misconduct. 
She is co-author of "The Right to Remain a Student: How California School Policies Fail to Protect and Serve," an ACLU of California study of the negative impact of increased presence of school police on students of color. That publication also addressed the failure of school district policies to establish protocols limiting in-school interactions between police officers and students. 
Before joining the Education Equity Project in 2012, Linnea was a fellow with the Criminal Justice and Drug Policy Project.  She worked closely with community members and organizations to advocate for and fund local criminal justice practices that are more responsive to the needs of individuals involved in the criminal justice system.
Before joining the ACLU of NorCal, Linnea worked at the Legal Aid Society – Employment Law Center as a summer law clerk focused upon fighting discrimination in employment on the basis of immigration status and national origin.  While in law school, Linnea also worked as a legislative policy intern at Make The Road New York and was a clinical advocate for two years in the New York University School of Law Immigrants' Rights Clinic. 
Prior to her legal career, Linnea was an activist in the tradeswomen movement for eight years.  She was an apprentice and then journey-level carpenter and served as shop steward on multiple job sites. Her proudest accomplishment during this time was to work with her union sisters to form and lead the New York City District Council of Carpenters' Women's Committee.  Its primary goal was to increase the recruitment and retention of women into good-paying union construction jobs .
Linnea graduated from the New York University School of Law, where she was awarded a Root-Tilden-Kern scholarship for distinction in public service, academic merit, and leadership.  She received her bachelor's degree from Oberlin College.